It does look like Akshay Kumar is turning into the new Salman 'Flop' Khan.
Whatever Akshay touches these days is turning into dross.
Akshay Kumar's latest movie Housefull is having a hard time at the box office, i.e. the U.S. box office.
For the second weekend, Housefull did worse than even his trashy Kambakkht Ishq.
For the May 7-9, 2010 weekend, Housefull came in at No-26. The film notched up a total gross of $247,432 and an average gross of $3,017 in the second weekend.
Here's how Housefull has fared in the second weekend compared to a few prominent Bollywood films.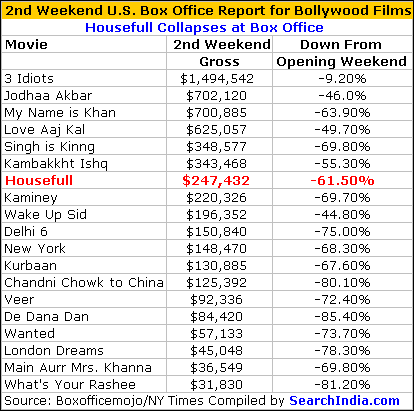 Folks, Akshay Kumar is the new Salman Khan of Bollywood.
Related Stories:
Critics Bugger Akshay Kumar's Housefull
Housefull Review: Decent Movie; Don't Believe the Critics