The Enthiran box office numbers are out.
And we're not impressed with the figures of the new Rajnikanth starrer.
Despite all the hype and hoopla, Enthiran has managed an embarrassingly unimpressive average gross of £6,463 and a total gross of £277,918 at the UK box office in its opening October 1-3, 2010 weekend.
Much Lower than Sivaji
Enthiran's average gross per theater of £6,463 was significantly lower than Rajnikanth's previous film Sivaji (£14,050) and lower than Dasavatharam (£6,669), Kanthaswamy (£6,528) and even Sura (£7,219).
Of course, Enthiran is a crappy movie, an orgy of stupidity that would have been laughed out of theaters any place (i.e. except Tamil Nadu) where there's a minimal expectation of art, entertainment and class from movies.
But in Tamil Nadu where there's a premium for all sorts of garbage the movie seems to have evoked a favorable response.
No surprise. No surprise.
Here's how Enthiran fared at the UK box office compared to a few other Tamil movies: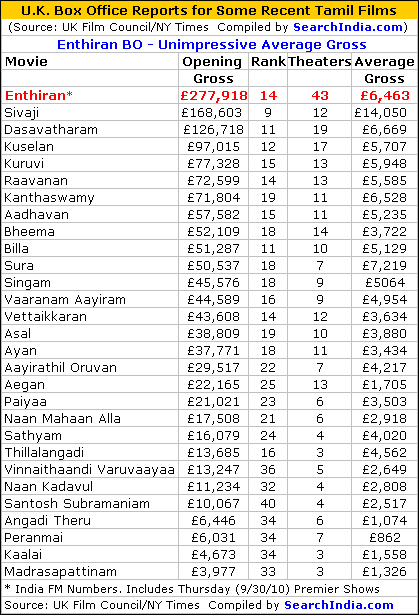 Related Stories:
Enthiran Review – Orgy of Stupidity