Mon dieu, we swear we saw heaven during our recent dinner at Madras Palace in Gaithersburg, MD.
Amidst the vast wasteland of bad Indian restaurants in the U.S., Madras Palace in Gaithersburg is a beacon of hope for weary aficionados of Indian food.
A 100% vegetarian Indian restaurant located at 74 Bureau Drive in Gaithersburg, Madras Palace offers an array of South Indian and North Indian delicacies including Dosa, Uttapam, Bisi Bele Bath and a choice of curries.
During our recent dining trip to Madras Palace, we let our taste-buds roam hither and thither across the vast prairie of the restaurant's offerings.
BisiBele Bath, Tomato Curry, Mango Kalam, Uttappam, Rasam, Rava Kessari, Kheer were among the items we dipped our beaks into.
Much of what we tasted at Madras Palace delighted us.
An exceptional Indian restaurant where the food is neither spiced dispiritingly low nor obscenely high, but just right.
Heavenly Curries
Mango Kalan was a divine curry with sweet and sour cut mango pieces cooked in coconut sauce and long, whole green chilies. With rice, with Poori or with Uttappam, any way you have the Mango Kalam you are a winner.
Tomato Curry in a medium-thick red-colored sauce looked inviting and tasted delicious with Poori and when mixed with rice.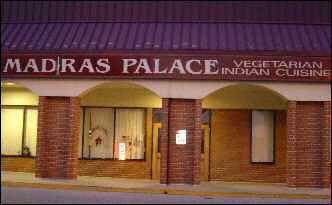 Fine Vegetarian Indian Food
With onion, green chili, tomato and peas, Uttappam was a flavorful delight that needed no accompaniment. With the spicy Tomato Chutney, the Uttappam sent us into a moaning orgasmic frenzy.
Bisi Bele Bath, a speciality from the south Indian state of Karnataka, was tasty but would have been better with a tad more ghee.
Non Pareil Rasam
Rasam sent us into an euphoric fit of ecstasy. Sour and pungent with black pepper powder, surely it must be what the Gods in heaven drink every day to retain their miraculous powers.
Attesting to the power of a kitchen staffed with competent chefs, the onion-pumpkin-doodhi Sambar was equally flavorful.
We tried hard to find faults with the food but often came a cropper.
Masala Dosa with the onion-potato filling and the Poori were both tasty.
Awesome Tomato Chutney
If there's a restaurant in the world that can make a tastier Tomato Chutney (with garlic and gingelly seeds), we haven't heard of it. No, sir, no.
A spicy delight, the Tomato Chutney was great with Dosa, Uttapam and Yogurt Rice. Schade, the Coconut Chutney wasn't in the same league.
Sadly, as with a lot of Indian restaurants in the U.S. the Chutneys were cold here too. The swines. 🙁
Vegetable Noodles was good but the tangy tomato sauce was on the higher side.
The subtly-spiced Mushroom Mutter Butter Masala and Mixed Vegetable Korma were tasty and provided no room for whining.
Even the humble Channa Masala, usually a bland mess at most Indian restaurants, turned out to be flavorful here.
Sweet Delights
The warm Semiya Kheer was a sweet delight. Neither too thick nor too watery, it had just the right texture.
The Rava Kesari balls were good but could have used a little more ghee.
Good Service
We were mostly satisfied with the service.
Our water glasses were filled promptly and finished plates removed after checking with us. Instructions were posted at the buffet table urging diners to use new plates for each visit.
Water glasses were placed on the paper-mats and not directly on the table. Small but important table practices that go a long way.
Alas, one of the bathrooms was stinking, dirty and had toilet paper strewn all over the floor.
Must Visit Restaurant
By the way, we saw a sign at the cash register offering a $1 discount for cash payment.
Folks, Madras Palace is among the few Indian restaurants we'd consider returning to.