Say, has Sanjeev Tuli, the boastful owner of Heritage India Dupont Circle on Connecticut Ave in Washington DC, forbidden his entire staff to smile at diners.
We strongly suspect so.
Virtually, every waiter/busboy we encountered at Heritage India Dupont Circle and even the suited manager (??) idling at the cash counter wore a grim, slightly pained, suffering expression that constipation is known to induce on its victims in the morning hours.
Squeezed between a shoe repair shop on one side and a language institute on the other, Heritage India has a pleasing interior and is a notch above the no-frills interiors of your average Indian restaurant. As you enter, the bar is to the right and the dining hall on the left.
We were promptly seated and being cheapo desis opted for the $11.95 buffet.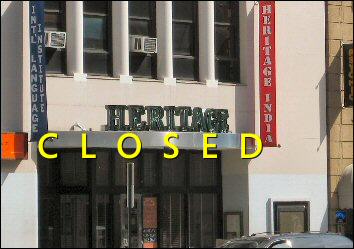 Closed
Laid at the back of the restaurant, the buffet table during our visit had an adequate array of items.
Hooray!
What pleased us most was the missing item on the buffet table – Tandoori Chicken, that ubiquitous red-colored, invariably burnt and poorly marinated mess offered at most Indian restaurants in the U.S. Thank God, we were spared.
Hungry as we were, we fell upon our lunch like beasts at a kill. Except the salad and the table cloth, we probably tasted everything else at the restaurant.
And we've got tell you schmucks this – the fellows in Heritage India's kitchen know their onions.
Oh, Fine Food
We've had Chicken Makhani in a thousand Indian restaurant in the U.S.
OK, that's an exaggeration but definitely at dozens of places. But Heritage India's Chicken Makhani in a medium-thick sauce is, oh, nonpareil. Since most of our readers are Indian dolts, nonpareil means without parallel.
Although not in the league of the orgasm-inducing Chicken Makhani, the spicy Chicken Curry was quite pleasing to our palate.
Kheema Alu was a spicy treat the likes of which we have rarely experienced in a country where Indian food is often bastardized to pander to effete American palates.
That Heritage India was no slouch when it comes to vegetarian food was amply proven by the very flavorful Bhindi Masala. We gave thanks to the almighty that it was not dripping in oil as it often is a most places.
Set in a slightly watery gravy ,Tofu Mutter was bland and maybe even a wee bit sweetish to win the approval of our spice-hardened palates.
For some strange reason, Indian restaurants struggle to get the humble Channa Masala right. And Heritage India was no exception to this rule. But the delicious Palak Makai (Spinach with corn) made up for the so-so Channa Masala.
Fresh Turnip, a first for us at an Indian restaurant, was sour and spicy and very tasty indeed. An off the beaten track item that we relished.
Of the two types of Naan Bread we tried (Garlic and plain), the Plain Naan was the better one since the Garlic Naan was not completely cooked in the middle.
Great Kheer
Desserts were a mixed bag.
Rice Kheer was a sweet delight that had us angling for more but the Mango Fool (sic) was a disappointment. Not in the least sweet, the mango paste wasn't worth the second spoon. Well, what can you expect when your dessert has the word 'Fool' in it!
By the way, except for the all-round grim expressions we had no complaints on the service front.
Overall, we found Heritage India Dupont Circle on Connecticut Avenue had more hits than misses and definitely an Indian restaurant worth dining at.
One of the few Indian restaurants yours 'high-standards expecting' truly would be willing to return to for a second visit.