For anyone driving a lot in the U.S., there are two things that are as important as the car – GPS to get you to your destination and Radar Detector to foil the cops eager to hand you a speeding ticket.
As you gadget-loving schmucks know, having, charging and managing multiple devices in the car is a pain.
Voila, West Chester, Ohio-based automotive electronics devices manufacturer Escort Inc promises to make your driving experience less stressful with its new Passport iQ that combines a GPS, Radar/Laser Detector and speed camera/speed limit information in an integrated touch-screen device.
Escort is making the bold claim that it's the first to offer all of the above features in one convenient device.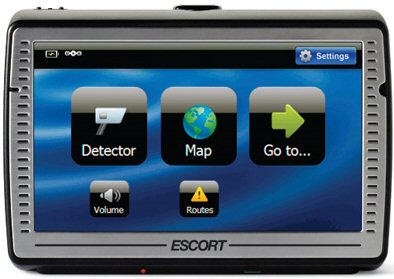 Passport iQ is framed in landscape profile with a 5-inch full-color touchscreen.
Escort engineers are said to have changed the standard radar detector form by designing a new microwave antenna assembly.
The company says Passport iQ delivers extreme long-range warning on all radar bands, including X, K, Superwide Ka, Ku, and instant-on Pop modes. Multiple front and rear laser sensors are supposed to provide 360-degree laser protection.
The navigation/radar detection gadget features an AutoLearn feature that automatically learns and rejects false radar sources based on exact location and frequency.
Passport iQ also provides warnings if speed limits change and drivers are exceeding the posted speed. The device also overlays red light cameras, speed cameras, and high risk speed traps on the navigation screen.
The gadget features a choice of visual and audio alerts and can be displayed in selectable formats and colors.
Pricey Device
Alas, Passport iQ is not cheap.
Pricing for the device starts at $650. In the U.S., consumers can now buy separately a Radar Detector starting at $30 and a decent GPS for about $150.
Will Passport iQ fly in the current depressed economy? We remain skeptical.