Apple's sexy iPhone may have all the headlines but the Open Handset Alliance's Android platform is grabbing the marketshare in the U.S.
A new report put out by market researcher Canalys gives Android-based handsets an impressive 44% share in the third quarter of 2010.
Here, take a look at the below chart: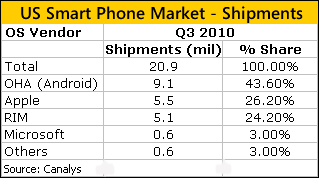 In the previous quarter, Android shipments accounted for 34% of the U.S. smartphone market and Apple iPhone 21.7%.
Of course, a key advantage enjoyed by Android over iPhone is that multiple vendors are hawking Android phones while the iPhone is restricted to just Apple and AT&T.
Global Picture
Worldwide, smartphone shipments grew 95% over the same quarter a year ago to 80.9 million units.
Android continued its relentless march on the global stage too.
Shipment of Android handsets grew a mindboggling 1,309% year-over-year from 1.4 million units in Q3, 20009 to 20 million units in Q3, 2010, accounting for 25% of the marketshare.
Nokia was the top smartphone vendor globally with 33% share followed by Apple iPhone with 17% and RIM with 15%.
Samsung, HTC, Motorola, Sony Ericsson, LG, Huawei and Acer are all delivering Android phones.
The phenomenal growth of Android devices is also fueled by their availability at different price points unlike the pricey iPhones.
With volumes, come applications. There are already 100,000 applications for the Android compared to 285,000 for the Apple iPhone, which launched a few years earlier.
What About India
In India, Nokia was the smartphone leader with a 65% share and grew its shipments 208% year-over-year to 1.1 million units.
RIM was the No-2 smartphone vendor in India with 18% marketshare in Q3, 2010 with volumes up 412%.
The Future
The big question is whether history will repeat itself.
In the coming years, will the pricey Apple iPhone be relegated to a niche-market while Android phones surge ahead. The analogy here is to what happened in the Apple vs Microsoft battle in the PC market. Multiple vendors embraced Windows while the Mac OS was the exclusive bastion of just Apple. And we all know how that epic battle ended.
But with U.S. carrier Verizon also gearing up to launch iPhones in the coming months, will we see a big fillip to iPhone sales or just a modest growth propelled by some defections from iPhone's current exclusive carrier AT&T and some new customers coming on board.
We are inclined to believe the Verizon deal will not be a big boost for the iPhone.