There must be a reason why some people refer to this consumer electronics store chain as Worst Buy.
In our experience, the customer (dis)service reps at Worst Buy oops Best Buy are often ill-informed, mostly snooty and invariably  pressure you to purchase their warranty service.
Plus, there are not enough customer reps if you have a question.
Shame, Best Buy
So why are we not surprised when a recent Consumer Reports survey of electronics stores found Best Buy stores near the bottom of the pile in consumers' overall satisfaction with the shopping experience.
Best Buy came in a shameful 15th of 17 stores, just ahead of Fry's and Walmart. What a disgrace.
Here's Consumer Reports' rating of electronics stores in the U.S.: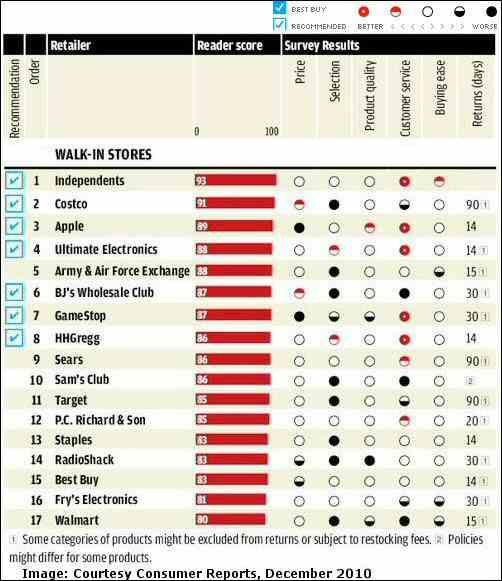 By the way, Apple and Gamestop fared badly when it came to pricing.
Before we forget, Best Buy's online store BestBuy.com came in last in Consumer Reports' survey of online electronic stores.