Three U.S. mobile carriers AT&T Mobility, T-Mobile and Verizon Wireless have set up a joint venture to build a smartphone-based mobile payment network called ISIS.
This means that if ISIS succeeds instead of those pesky credit cards or $ bills that many of us seem to be forever losing we'll all be tapping on our iPhone, Android or wateva smartphone at the point of sale to make grocery and other purchases at Patel Brothers, Apna Bazaar, Walmart or Subzi Mandi in the U.S.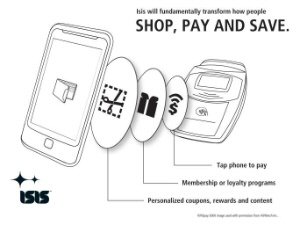 Not just payments, the contactless ISIS technology is supposed to make the mobile phone the repository of coupons, transit passes, tickets and the like.
Your Mobile Phone – Your Mobile Wallet
In essence, what ISIS seeks to accomplish is to turn your mobile phone into a mobile wallet via smartphone and near-field communication (NFC) technology.
NFC leverages short-range, high frequency wireless widgetry to encrypt information exchange between devices at a short distance.
ISIS' backers claim the system will include strong security and privacy safeguards. We'll see about this aspect.
When?
ISIS is working with Discover Financial Services to build the mobile payment infrastructure and expects to offer its services over the next 18 months.
Big Questions
* Will merchants come on board in sufficient numbers?
That is the 64 billion dollar question. For without the cooperation of large merchant chains like Walmart, Best Buy, the cash-strapped city Metros, ISIS has little chance of succeeding.
Getting a significant number of merchants to install the point-of-sale products to enable the ISIS mobile payments will not be easy since it's likely to cost more than a bit of change.
* Also, what happens when you lose your mobile phone or if it gets stolen.
* How will we use the ISIS technology to pay for services like Netflix or purchases at online retailers like Amazon.
What about Visa & Mastercard?
Next, there's no mention of the two big credit card networks Visa and Mastercard in the ISIS announcement.
Any mobile payment infrastructure without the active participation of Visa and Mastercard would have a hard time getting off the ground.
In any case, we expect this whole ISIS thing will take at least three to five years to gain traction.
That is, if it gains traction at all.
Former GE Capital executive Michael Abbott has been named CEO of ISIS.