Kabab Korner Dover Buffet – Mighty Disappointing Food
Delaware has some of the crappiest Indian restaurants like Himalaya, Maharaja, India Grille, Hindu Temple in Hockessin et al that serve some of the trashiest Indian food known to humankind, perfidious places whose sole raison d'etre is to part hapless diners from their money.
So, when the food at a new takeout place Kabab Korner on Rt-13 in Dover, DE turned out to be decent we were more than pleasantly surprised. More so, when the service was polite, friendly and the person at the counter could speak intelligible English. As the cognoscenti would know, service at most desi restaurants is pitiful, with Indian customers often getting short shrift.
Kabab Korner is about two-months old, started by the Chinese Indian family of Chus, who migrated to the U.S. from Hyderabad/Cuttack in India about 12 years ago.
Dennis Chu, a 25-year-old student at the University of Baltimore, runs the counter while his parents take care of the kitchen.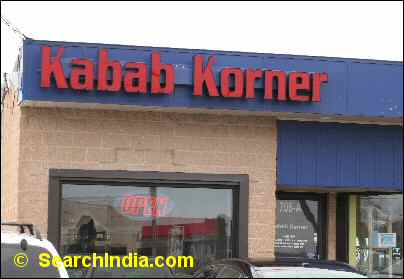 Upon entering the small place, we picked up the menu at the counter, looked at the various choices and quickly ordered a Kabab.
Hey, that was our first order of business after entering the tiny spot, which previously served as a Budget car rental.
We asked for a Tangri Kabab (chicken drumsticks) combo ($6.99), which besides three pieces of Kababs came with Rice Pulav, Salad and Rajma.
It took about 15-minutes for the Kababs to land on our table.
We wouldn't class the Tangri Kabab in the excellent category but by Delaware standards they were more than adequate.
Where the Tangri Kabab was found wanting was in the nature of its marination. It certainly could have done with more lemon juice and ginger, garlic, chili paste. The trick is in the marination and that's where most Kabab places are found wanting.
The Kababs we were served would have thrilled an American but merely satisfied an Indian who knows the real deal and seen better.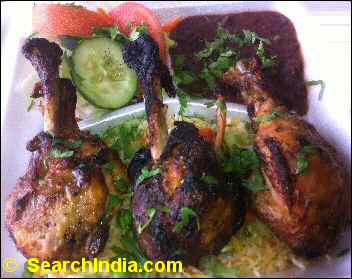 Tangri Kabab
Chili Chicken ($7.99) amply lived up to its name.
Neither completely dry nor of the gravy kind, it was kind of in the middle and tending towards gravy side.
Boy, was it delicious. Heavenly with the Egg-fried Rice and the Chapatis.
And the heat brought water from eyes, nose and all other orifices! 😉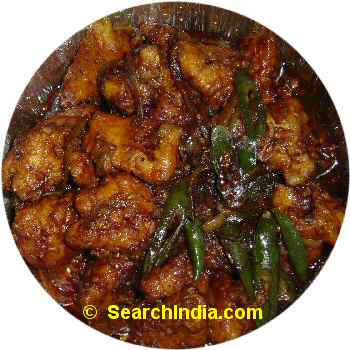 Chili Chicken
Vegetable Manchurian ($7.99) too was neither dry nor the gravy kind but tended toward the dry side.
Although spicy and tasty, the Manchurian pieces were not crisp. It came with Palav Rice and was more than sufficient for two people.
Egg Fried Rice ($3.99) was subtly spiced and could easily do for two people.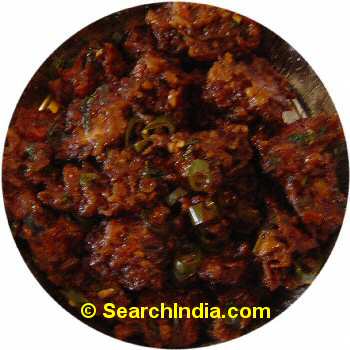 Vegetable Manchurian
Polite Service
To our delight, service at Kabob Korner was polite and friendly.
Dennis was a cheerful, smiling guy, again a rarity at Indian restaurants where the staff generally behave as if they'd just rushed back from their father's funeral. But Dennis' T-shirt could definitely do with a wash. 😉
We didn't see much business during the 35-40 minutes we were there the other day. We saw two people coming in to pick up the menus, heard one telephone order come in and a young desi guy stopped by to get a skewer of Kabob for his daughter.
Besides Kabobs and Indian-Chinese stuff, Kabob Korner also offers the usual Indian vegetarian curries like Palak Paneer, Bagara Baingan, Chili Paneer, Mutter Paneer, Channa Masala et al and non-vegetarian curries like Chicken Saag, Lamb Vindaloo, Shrimp Curry, Kadai Chicken and more. Of course, Naan Bread, Parathas and Rotis are available as are Chicken and Lamb Biryani (Friday and Saturday).
Overall, we found Kabab Korner in Dover, DE to be a decent enough Indian takeout place, one that we'd consider revisiting.
Related Stories:
Kabab Korner Dover Buffet – Mighty Disappointing Food