There may be a million contenders but there's only one champion.
Apple's iPad, which recently debuted in India after a successful rollout in the U.S. and elsewhere, accounted for over 75% of the global Tablet marketshare in the last quarter of 2010, according to numbers put out today by data cruncher Strategy Analytics.
Tablets based on Google's Android software came a distant second with 21.6% and all the other Tablet vendors put together accounted for a measly 3.1% of shipments.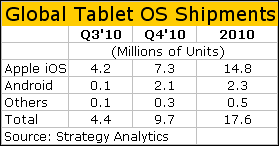 Strategy Analytics' director Neil Mawston attributed Android tablet's growth primarily to the Samsung Galaxy Tab that was launched in dozens of countries and promoted heavily by Samsung.
We've seen the Samsung Tablet at Best Buy and, no, we're not impressed. With its bigger screen and huge number of dedicated apps, Apple's iPad is any day the better Tablet.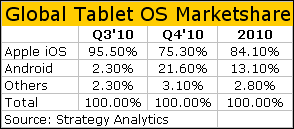 iPad in India
Apple started selling the iPad in India Friday.
The entry-level 16GB, WiFi only model costs about Rs 28,000 while the top of the line 64GB WiFi+3G goes for around Rs 45,000. Local taxes could further up these prices.
Unlimited 3G data service for the iPad will be another Rs 1,000 per month.
Since WiFi is still far from being ubiquitous in Indian homes, Indian consumers may not find the iPad as appealing as American digital media aficionados.