Stieg Larsson's greatest achievement was to bring Swedish crime fiction to the world stage.
Who having read Larsson's Millennium Trilogy can ever forget the bisexual eccentric abused tattoo freak Lisbeth Salander or the journalist Mikael Blomkvist as they hunt down some of the most viciously bad guys in the icy corners of Sweden putting their lives on the line.
A hard act to follow for any Swede or for that matter a crime novelist elsewhere too.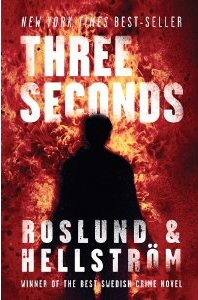 So after recently seeing a full-page ad in the New Yorker for the new Swedish crime novel Three Seconds by journalist Anders Roslund and ex-criminal Börge Hellström, our interest was piqued enough to borrow the English translation of the book from our local library.
We finished the 489-page crime novel last night.
While not disappointing, Three Seconds is nowhere in the league of Stieg Larsson's book.
Roslund and Hellström's principal characters, the criminal infiltrator Piet Hoffmann and the dogged Stockholm City Police Detective Superintendent Ewert Grens are, of course, su generis but do not have the same captive hold on our imagination that Lisbeth Salander or Mikhail Blomkvist exert. Neither do the lesser characters.
There's color aplenty in Three Seconds, to such an extent that the vivid description becomes not merely too tedious but also seems affected on occasion.
The book follows the course of a police informant Piet Hoffmann, infiltrated into the Aspas prison by the Stockholm Police in an effort to break the Polish Mafia gang Wojtek before they can entrench themselves into the drug peddling business inside the walls of the large high security prison.
No sooner does Hoffmann gets into prison than things go wrong. Awfully wrong.
The first few hundred pages move at a languorous pace notwithstanding one murder in the early pages but then picks up momentum at the midpoint (p.245) and things then move into top gear.
Missing in Three Seconds is the smooth, convincing (well, almost) narrative of the Millennium books. Both the affection Hoffmann frequently expresses for his wife and his two young sons and Grens' guilt over an old incident seemed not only contrived to us but broke the flow of the criminal action.
Another issue we had with Three Seconds was with the strong outrage at the 'crime' expressed by the Grens and the prosecutor Lars Agestam over the modus operandi of some members of the Stockholm Police. Using informants with unsavory backgrounds or planting such dubious characters with the enemy to collect human intelligence in the course of larger criminal investigations is hardly a great crime, even if it impacts the course of tackling lesser crimes.
The ending too was impossibly implausible even if it's only a novel we're talking about.
If you have read the Larsson novels, you're unlikely to be maha thrilled with Three Seconds. If you haven't, we recommend that you first read the three Larsson books (see below) before considering Three Seconds.
Related Stories:
The Girl Who Kicked the Hornets' Nest Review – Tragedy with a Happy Ending
The Girl Who Played With Fire – Solid Thriller
The Girl With the Dragon Tattoo – Abba of Whodunits
The Girl with the Dragon Tattoo (Movie) Review – Riveting, More So for Stieg Larsson Fans