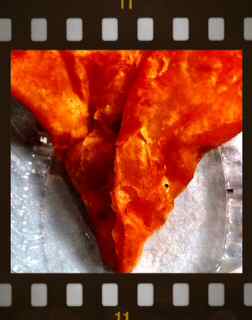 Being at a loose end this morning, we headed to  a desi grocery store in the area and purchased this popular Indian snack.
But the 99-cent snack tasted so awful (smelly, pasty maida flour and potatoes inside) that we trashed it.
Fortunately, we'd taken some pictures earlier and decided to draw some value from it by manipulating the image to make it appear like what it obviously is not. 😉
The image manipulation was done through the Camera+ application in the iPhone 4. At 99-cents, a great app that you can purchase via the App Store.