After the great New Jersey Samosa lawsuit, the stage is now set for the Mother of All Biryani Battles.
Big Indian legal fights in the U.S. are all about life-changing things like Samosas, Biryanis and, who knows, maybe in the future, even Gulab Jamuns and Jalebis. 😉
No kidding, guys.
And the venue for the Biryani battle is once again a court in New Jersey.
Facing each other in court are two Indian businesses – Paradise Biryani Pointe and Paradise Indian Grill.
Paradise Biryani Pointe vs Paradise Indian Grill – Mother of Biryani Battles
Paradise Biryani Pointe and its owner Narsing Raj Gowlikar have filed a lawsuit against Paradise Indian Grill and its associates alleging trademark infringement and unfair competition.
The claim to fame for both Paradise Biryani Pointe and Paradise Indian Grill restaurant chains is the famous Indian rice dish Biryani, although they offer other Indian food items as well.
Paradise Indian Grill declares on its web site that its signature dish is Dum Biryani. As for Paradise Biryani Pointe, the importance of Biryani is evident in its very name.
In its complaint, Paradise Biryani Pointe claims that it supplies pre-mixed spices to its franchisees to prepare the classic Biryani dishes (p.4 of complaint).
The recipes and pre-mixed spices are said to have been developed by complainant Narsing Raj Gowlikar and his wife Shailaja over a seven-year period.
Besides Paradise Indian Grill, other defendants named in the lawsuit include Guna Priya Babu Yalamuri, Surender Kesari, Rajbir Singh, Ravi Pallerla and Hari Rao.
Guna Priya Babu Yalamuri and his wife previously owned a stake in Paradise Biryani Pointe but are said to have relinquished their stake in June 2011 after an 'incident' on January 6, 2011 between Narsing Raj and Guna Priya.
We wonder what that incident was. 😉
Hey, it looks like some of the key folks involved in this battle royale Biryani are Telugus.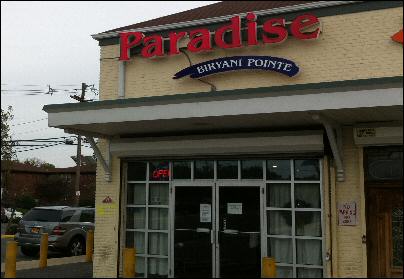 Paradise Biryani Pointe – Alleges Trademark Infringement
Paradise Biryani Pointe Seeks Preliminary Injunction
Paradise Biryani Pointe and Narsing Raj Gowlikar are seeking a preliminary injunction restraining Paradise Indian Grill and its associates from using the menu, words or logo of 'Paradise Biryani Pointe' and 'Paradise Indian Cuisine,' from using 'Paradise Biryani' or 'Paradise' in connection with the sale of Indian cuisine and to forfeit the profits realized through alleged infringements.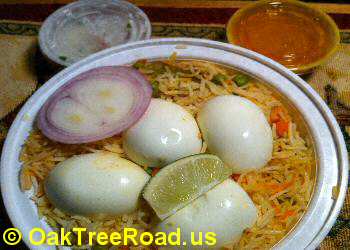 Paradise Biryani Pointe's Egg Biryani
Paradise Biryani Pointe opened its first Biryani restaurant in North Brunswick, NJ in October 2007 and has since then expanded to other locations in New Jersey as well as four other states (Texas, Virginia, Georgia and Connecticut).
Paradise Indian Grill claims on its web site to be operating in six states but that's inaccurate because some locations like Newark (DE) have yet to open.
On an unrelated note, we'd like to tell our readers that we recently had Paradise Biryani Pointe's Egg Biryani (Edison, NJ location) and found it to be disgusting! 🙁
Related Posts:
Paradise Biryani Pointe Edison – Horrible Biryani, Spoiled Gravy, Poor Service
Dakshin Express Crushes Paradise Biryani Pointe