It seems like not a day passes in the digital media universe without a big-brand jumping on the tablet train with a huge announcement, launch event or upgrade.
This morning it was the turn of the struggling U.S. bookstore chain Barnes & Noble to make a song and dance about its new Nook Tablet.
Nook Tablet is Barnes & Noble's first entertainment-centric tablet offering. The company's previous tablet, the Nook Color launched in October 2010, was positioned as a Reader's tablet.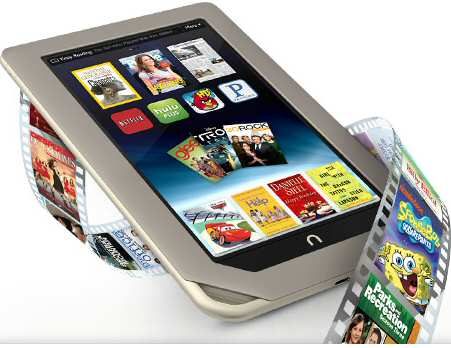 Nook Tablet Features
Running the Android 2.3 Gingerbread software, the 7-inch dual-core processor Nook Tablet with 1GB RAM costs $249 and will be available for purchase on November 17 (just two-days after rival Amazon's $199 Kindle Fire tablet).
Unlike the iPad and like the Kindle Fire, the Nook Tablet is WiFi only. No 3G version for mobile connectivity.
There's no camera in the Nook Tablet.
Barnes & Noble is promising that Nook Tablet's battery will provide 11.5 hours of reading or 9 hours of video without recharging and with wireless off.
Weighing 14.1 ounce, the Nook Tablet supports Flash and packs 16GB internal storage with the option to add another 32GB via microSD card. There's free Nook Cloud storage as well like with the Kindle Fire and the iPad.
Nook Tablet display is 1024 X 600 (169 pixels per inch) and users can play audio on the built-in mono speaker.
Some members of the media who played with the Nook Tablet at the launch event in New York City were awed by the display.
There is a 3.5 mm stereo headphone jack but headphones are not included in the kit. So, figure another $25-$30 for a stereo headphone.
Built-in apps for the Nook Tablet include Netflix, Hulu Plus, Pandora internet radio, Chess, Crossword, Sudoku, Media Gallery, NOOK Friends and e-mail.
Outlook
Despite the flurry of tablet launches by a bevy of companies including Motorola, RIM/Blackberry, Acer, Asus, HP, Toshiba and Samsung, no one has been able to make a dent in the Apple iPad citadel.
Customers have mostly flocked to the iPad (starting price of $499 for the 16GB version) leaving the other players scrambling to survive and forcing them to slash prices with no avail.
Whether Barnes & Noble can survive the iPad tsunami that has laid waste other tablet vendors remains to be seen.
You can pre-order the Nook Tablet today.
Along with the launch of the Nook Tablet, Barnes & Noble today cut prices of its older products – Nook Color is now $199 and the Nook Simple Touch costs $99.
Related Posts:
Amazon Guns for iPad with $199 Kindle Fire Tablet