After spending a lifetime gorging on the infinite varieties of Indian curries, we've now started exploring what's on the other side of the curry fence.
In pursuit of the elixir outside of Indian food, we've lately started gormandizing on Thai food.
A variety of Thai dishes including Pad Thai, Drunken Noodles, Panang Red Curry, Kiew Warn, Thai Pineapple Curry, Spicy Tofu and Hot Green Curry have found their way into that cavernous black-hole aka SI's stomach.
But nothing, nothing from the cornucopia of Thai cuisine that we've indulged in so far comes anywhere near Gaeng Kua Sapparod or Thai Pineapple Curry to those unfamiliar with the titillating names of Thai food.
Allah or Jesus or Ram must have been in a most beneficent mood when he  parted with the recipe for Thai Pineapple Curry to Earthlings.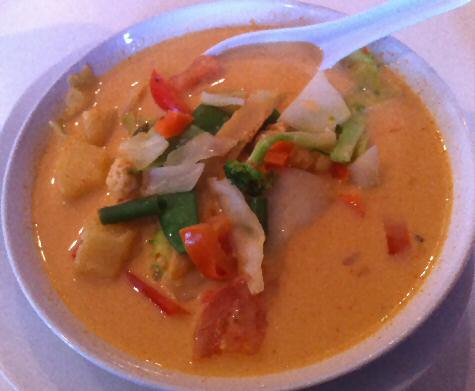 Thai Pineapple Curry – Manna from Heaven
Like with most great things, the origins of Thai Pineapple Curry are shrouded in a fog of mystery although we've heard rumors that one  of our peripatetic South Indian ancestors may have played a part in its creation during his wanderings in Siam at the end of the 19th century to bring civilization to the natives. 😉
A Different Curry
All curries are not created equal.
With their overpowering aroma and fiery taste, Indian curries are like, well, Indians.
In other words, hot, crude, occasionally deceptive and often herald their existence even before they touch your palate.
Once the Indian curry hits your palate, the shout gets magnified with the fiery explosion in your mouth.
Thai food, at least the bastardized American version of the various dishes we've tried over the last few months, does not need to scream to make its presence felt.
Still much of the Thai food we've tried has met with our approval.
But it's the Thai Pineapple Curry that swept us off our feet and won our heart.
Thai Pineapple Curry is a coconut-milk and red curry paste based dish.
You can have the Thai Pineapple Curry with Chicken, Duck or with vegetables. So far we have had it only with vegetables.
It's sweet and spicy at the same time.
Unless you're a schmuck you know the pineapple gives it the sweet-sour touch and the red curry paste renders the spicy flavor or heat.
The gravy or sauce or whatever you chose to call it, in which the vegetables and small pineapple chunks come soaked, is neither watery like soup nor thick like the gravy of Chicken Tikka Masala or Butter Chicken. It's somewhere in between.
Besides the pineapple chunks, the vegetable version of Thai Pineapple Curry includes Cauliflower, Snow peas, Cut Beans, Broccoli, ridged Carrot pieces, Zucchini slices, Baby Corn, slices of Cauliflower stalk, Tomato and Red Pepper
The dish usually comes with rice on the side.
You can pour the Thai Pineapple Curry on the rice or like we do, add a little bit of rice at a time into the curry and scoop it up with a  spoon into your mouth. Either way, you come out on top!
If you're looking for a desi vegetarian recipe for the Thai Pineapple Curry, you might want to visit Jugalbandi.
As we make the rounds of Thai restaurants we can't help but notice that service at Thai restaurants is friendlier than at Indian restaurants.
Sporting a mournful mien, waiters in Indian restaurants invariably walk and act as if they have a monster dildo shoved up their backside.
Au contraire, Thais are usually bubbling with their smiles and How are youuus?
Whether the Thai enthusiasm is feigned or genuine, it does make you, the diner, feel good.