The hard times a lot of Indian restaurants in the U.S. are currently facing due to the ongoing recession shows no signs of abating.
Six in ten U.S. adults (61%) said they are likely to decrease spending on eating out at restaurants (61%), according to a new poll by Harris Interactive.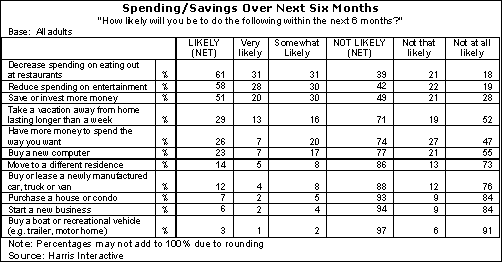 We think that's great news since less spending on dining out will surely affect Indian restaurants as well.
Deserve to Die
Most Indian restaurants in the U.S. that we've been to serve horrible food accompanied by lousy service and deserve to die.
It's shameful that a lot of Indian restaurants in the U.S. can't get even basic items like Samosa, Dal Makhani and Tandoori Chicken right.
The sooner they give up the ghost the better.
And when they die, they will be unmourned.
In more bad news for businesses, over three-quarters of Americans say they are unlikely to buy a new computer (77%) and 58% plan to spend less on entertainment within the next 6 months.
So if you're planning on buying a laptop or PC, just hold out for a little while more.
There could be better deals on the horizon, say in the new year, 2012.