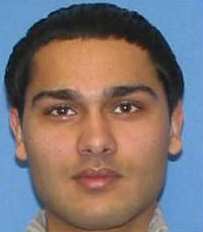 Indians are 'distinguishing' themselves in bizarre new ways in America.
No longer content to be mere scientists, Spelling Bee champions, Intel Science Talent winners, doctors, astronauts or engineers, Indians in America are now turning their attention to nefarious activities, particularly sex-related offenses.
For some reason, Indian men seem to have a hard time keeping their dicks in their pants.
First, it was the Telugu dickhead Murali Krishna Nookella who had difficulty keeping his dick zipped up in his pant while on a plane.
The latest Indian dickhead on the wrong side of the law is Kharak Singh of New Castle, Delaware who's just been sentenced to one year in prison.
Unlawful Sexual Contact – Singh is Not King
Media reports say Kharak Singh admitted to unlawful sexual contact and unlawful imprisonment of a 21-year woman in a plea deal with the state of Delaware.
Singh turned 23 last Saturday.
The case rocked the First State i.e. Delaware after Kharak Singh's arrest on charges of first-degree rape of a 21-year-old woman in Wilmington in April 2010.
Fortunately for Kharak Singh, the woman later refused to testify citing trauma and the charges were downgraded.
If Kharak Singh had been convicted on the original charges, the Sikh lad would have faced 72-years in prison!
Under the terms of Friday's sentencing, Kharak Singh will also have to register as Tier-1 Sex Offender.
Kharak Singh initially claimed the woman was drunk and "wanted to party with him" but apologized on the sentencing day Friday:
"I'm sorry for everything that happened."
Well, it turned out to be a very costly party for Kharak Singh.
Gurcharanjit Singh, the second person accused in the case, fled to India where Singh is still King.
By the way, Delaware is referred to as the First State because it was the first state to ratify the constitution of the United States (on December 7, 1787).
Related Content:
Registration of Sex Offenders in Delaware