Convenience store and gas station chain Wawa is a big presence in PA, NJ, DE and MD.
During the course of our travels, we often used to stop at Starbucks to fill up on coffee and fill out of water. 😉
But these days a lot of Starbucks restrooms leave a lot to be desired.
Hence, we're shifting our loyalties to Wawa's Mocha with extra caffeine and its restrooms while traveling.
The other day while driving through NJ we stopped at Wawa's Burlington (NJ) location during rush hour (around 6PM) to fill in and fill out.
Here's the promise (please see below) we found in Wawa's restroom: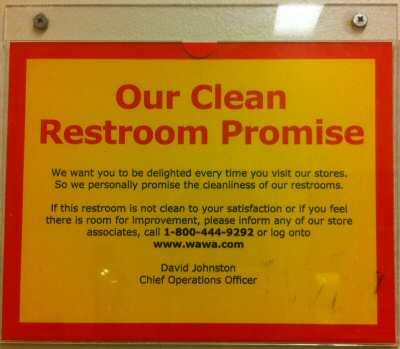 We're glad to tell you that Wawa kept its promise.
The restroom (see below) was 99% clean and unsmelly even during the busy rush hour period.