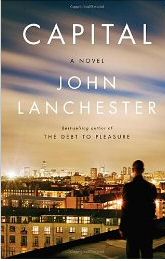 British writer John Lanchester puts forth a riveting indictment of present-day London in his new novel Capital.
By London, we mean a city where clueless people in the financial sector make obscene sums through reckless bets, where greed runs rampant at all level of society, drunkenness is the norm, conspicuous consumption a ritual and high immigration an unavoidable phenomenon.
A city whose fabric has been completely torn asunder, hopelessly coarsened amid the meretricious charms of High Street luxuries.
In short, a city that has gone to the dogs over the last few decades.
Lanchester sets his story in 2007-2008, when tremors start rocking the world of high finance, with Pepys Road in South London as his stage.
Colorful Characters
Once a lower middle-class neighborhood, home prices on Pepys Road have soared into the stratospheric realm.
Millionaires buy up homes on Pepys Road and pour more money into tearing up the buildings and doing them up.
All of Lanchester's characters, and they are plenty, diverse and a colorful bunch, either live on or have a strong connection to Pepys Road.
There's a wealthy banker, an old widow with advanced brain tumor, a 17-year-old Senegalese football player, a Polish construction worker, a Hungarian nanny, the banker's wife, a traffic warden from Zimbabwe, an artist, a Pakistani newsstand owner and his family, a police detective and a few others.
Although the characters might seem too many, Lanchester fleshes them all out carefully, giving us an intimate portrait of each of the Pepys Road characters.
We know their likes, dislikes, hopes, quirks and are acquainted with even minute details of their families.
Each of these characters could have been picked at random from a real London neighborhood.
Together, the Pepys Road characters present a vivid portrait of London, and how the city has fallen.
Lanchester's brilliance is to take a buzzing, vibrant slice of London – Pepys Road – and give it a fictional coat of paint with extraordinary verisimilitude.
In my view, Capital is a remarkable sociological study of London in fictional garb.
Replace London with New York City and except for the geographical setting the story is the same. Perhaps, in a magnified way.
But at the end of the 527-page book, I found myself asking – To what end?
Sure, hard times have come in for some people in the financial sector.
Some financial institutions have collapsed, people have lost their jobs and a few move out of Pepys Road.
But the big picture hardly changes.
When Roger loses his job and sells his home, another wealthy person scoops up the place at the asking price. Ditto with Petunia Howe's home.
The rot is far too deep.