I'm happy that my favorite American coffee store Starbucks has thrown open the doors of its first Indian store in Mumbai, Bollywood capital.
In an age when inconsistency and crap is the order of life, Starbucks is one of the rare safe havens of consistent quality.
Starbucks has entered India via Tata Starbucks Limited, a 50-50 joint venture between Starbucks Coffee Company and Tata Global Beverages Limited.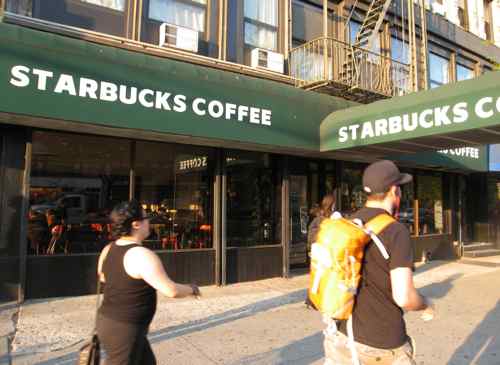 A Starbucks Store on Delancey St, Downtown Manhattan (April, 2012)

I've been Starbucksing for a long, long time and only on rare occasions has yours truly run into quality issues on the coffee or on the service.
Starbucks locations even in rest-stops on highways like the New Jersey Turnpike, deliver consistently decent quality.
While I occasionally order the lattes, pastries, brownies and sometimes even bagels, my first preference is usually the simple small (Tall, as Starbucks calls it) coffee.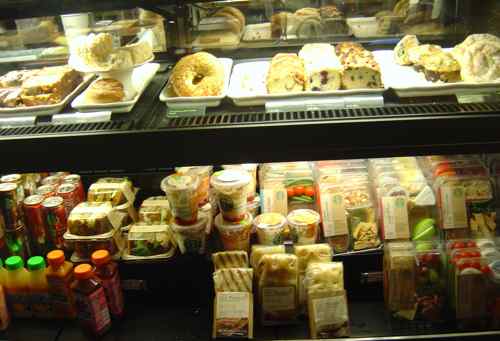 Starbucks 42nd St, NYC – The Non-Coffee Items
So fond I am of this brand of coffee that we buy the Starbucks Coffee Powder packets (available at most grocery stores and the Starbucks stores) for use at home too.
When you return the empty packet at any Starbucks store in the U.S., you get a free small coffee. Bet you didn't know that.
Like a true desi, I never fail to exchange the empty packet for a free cup of coffee at the store. 😉
As I furiously bang away at my Apple keyboard, I'm sipping Starbucks Medium Pike Place Roast ($7.99 for a 12oz packet at Walmart).
Since I embraced Starbucks I've stopped buying Indian coffee powder like Cothas, Narasus etc. It's probably been a long while since I had an Indian coffee. No regrets, sweetie!
NYC's Unofficial Restroom
Another tidbit you probably didn't know – Starbucks is the unofficial Toilet (Restroom) of  New York City.
I'm not kidding but for Starbucks a lot of children, women and men in New York City would probably have to go around wearing diapers.
The restrooms are mostly clean and in all these years on only one occasion in midtown Manhattan did I see a drug needle in the restroom.
On a few occasions, I've seen adult couples enter and leave the Starbucks restroom in NYC.
What they were doing together inside I have no idea. Most definitely, they were not practicing Yoga. 😉
Mumbai Store
Coming back to Mera Bharat Mahaan, Starbucks' Mumbai store is located at the historic Elphinstone Building, Horniman Circle.
Expect to see two more Starbucks stores open in Mumbai next week –  at Oberoi Mall and the Taj Mahal Palace Annexe.
The Indian arm of Starbucks will offer Indian Espresso Roast, sourced locally through an agreement with Tata Coffee.
Srarbucks stores in India store will also sell Tata Tazo, Himalayan mineral water and both Western and Indian food items including Elaichi Mawa Croissant, Murg Tikka Panini, Tandoori Paneer Roll and the signature Star Club.
Boy, I sure would love to see Tandoori Paneer Roll in the NYC Starbucks.
Starbucks and Tata Coffee plan to promote Indian-grown arabica coffees around the world and boost the quality of coffee through sustainable practices and advanced agronomy solutions.