After testing the Redbox Instant movie streaming service, I must say a lot of Indians will find the service very disappointing in its current incarnation.
For $8 a month, Redbox Instant provides unlimited streaming of movies and lets you borrow four DVDs at the kiosks that are now ubiquitous outside U.S. grocery stores.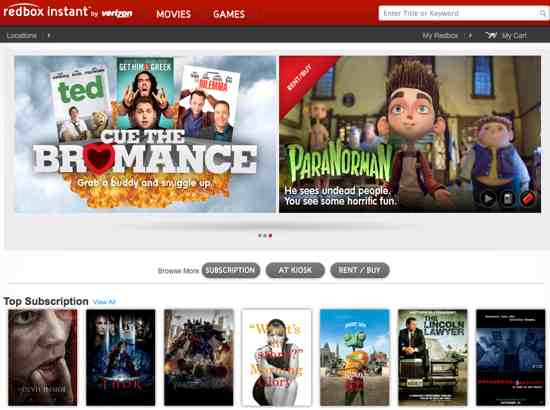 Two Problems
There are two main issues with Redbox Instant.
First, there's the issue of anemic content. Compared to Netflix streaming, Redbox Instant has fewer movies. For instance, the entire foreign movies category on Redbox Instant has just 32 films available for streaming under the subscription plan. This could change with time but right now Redbox' major rival Netflix has no cause for worry.
Second, there are no Bollywood movies on Redbox Instant. So that's a mighty big disappointment for most Indians whose loyalties are foremost with Hindi, Tamil, Telugu etc movies.
I tested the service on both the PC and the iPad. I watched the Argentine film Las mantenidas sin sueños a.k.a. Kept and Dreamless (2005) in full on a 27-inch PC and bits of Faces in the Crowd on the iPad.
I encountered stuttering once on the computer (with an Ethernet Internet connection) but after that it was smooth streaming till the end. Redbox Instant works on both Windows and Mac computers without requiring any downloads. My test was on a Mac with the Firefox browser.
On the iPad, I watched a few minutes of Faces in the Crowd. I encountered a "pausing" problem with Redbox Instant on the iPad. When I paused the movie, went to a different application on the tablet and came back to the movie after a little while, the service had gone back to the beginning of the film. If I remember correctly, Netflix lets you resume from where you pause.
You can rewind and fast-forward Redbox Instant on both the computer and iPad.
Currently, set-top boxes like Roku do not work with Red Box Instant to stream the movies directly to a television set but some Samsung TVs and Blu-ray players supposedly do.
Redbox Instant also lets you rent/buy some Premium titles for a fee (in addition to the $8 monthly subscription) but I did not test them.
I also did not care to test the service on the iPhone since the screen size is too small on the phone to make watching a full-length movie an enjoyable experience.
Verdict
I will not recommend Redbox Instant as a streaming alternative to Netflix for Indians in its present form.
But on the plus side, keep in mind that you get four Hollywood DVDs for rental at the kiosk. So your effective monthly rate for streaming is actually $4.
Redbox Instant offers a 4-week free trial to test drive the service.
Redbox Instant has yet to launch widely and is currently in limited availability. You have to provide an e-mail address and wait for a few weeks to get an invitation code.
Given that a lot of desis in the U.S.  are obsessed with watching Bollywood or regional Indians language films, they are bound to be disappointed with Redbox Instant.
But if you're like me, with interest in both Indian and Hollywood/foreign films, then it's worth checking out Redbox Instant.
Give the four-week free trial a shot and then decide whether you want to keep it (credit card required for free trial).
Related Posts:
Streaming? Man, We Never Had it So Good; Netflix, Amazon, Mela, Hulu, RedBox etc