Many winters ago, I purchased Samosas at an Indian grocery store in New York for 75 cents.
On my way back home, it struck me that I did not have a microwave to heat my Samosas.
So I made a detour to the mall and picked up an LG microwave for $75 so that my 75-cent Samosas could be nice and warm as it entered my system.
In a similar spirit, I ended up spending about $10 in Manhattan the other day for the 10-cents it costs to charge my iPhone.
The battery in my iPhone was running low and I quickly popped into the Starbucks on Park Ave and 29th St to charge it.
But the coffee shop was crowded.
I hate it when White trash girls squat on one chair and rest their legs on another.
Classless bitches!
So in high dudgeon I rushed out and walked one block north, crossed the street and entered Toon Thai restaurant (Park Ave and E.30th St).
The place was empty except for a solitary diner waiting for her food.
I was greeted by a smiling waitress (why is it that Indian waiters invariably sport a mournful mien).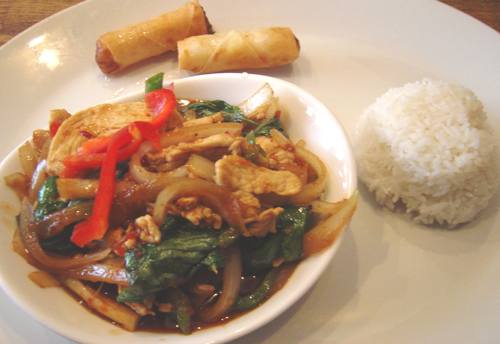 Kai Kra Prow (Thai Basil Chicken)
Toon Thai Cafe $8 Lunch Specials
My first thought was to find an electric plug-point and charge my in extremis iPhone.
The sweet Thai girl pointed to a socket in the wall. After connecting my iPhone to the outlet, I was at peace.
You can't just enter a restaurant in NYC and charge your iPhone without eating anything.
So after a quick scan of the menu, I ordered the Kai Kra Prow (Thai Basil Chicken) lunch special ($8).
It took about 10 minutes for my food to arrive.
Basil Chicken came to my table accompanied by two Spring Rolls and a small serving of Jasmine Rice.
Boy, did it look nice (see above picture again).
With food, presentation and service account for over 50% of the satisfaction.
Set in a soy color tangy sauce, Basil Chicken included Basil leaves, red peppers, onion and, of course, the chicken.
Although not spicy, the Basil Chicken was delicious.
To spice it up, I asked for some spicy sauce and was quickly brought a small container of hot Red Chili sauce.
Wow, with the Red Chili sauce added the Basil Chicken took the leap from Good to Excellent.
Spring rolls though small were hot and nice with the hot sauce.
Jasmine rice had a fresh texture and was hot.
Though I initially felt the serving size was small compared to the All You Can Eat Indian lunch buffets for $8-$10, I was a happy camper at the end of my meal.
More importantly, I did not get that sluggish, heavy feeling one invariably gets after a meal at an Indian restaurant.
Toon Thai Cafe NYC Ambiance and Service
The restaurant interiors and tables were clean.
Silver was kept neatly on top of a napkin – a good hygiene practice in my opinion.
The waitress filled my water glass promptly and the food delivered to the table quickly.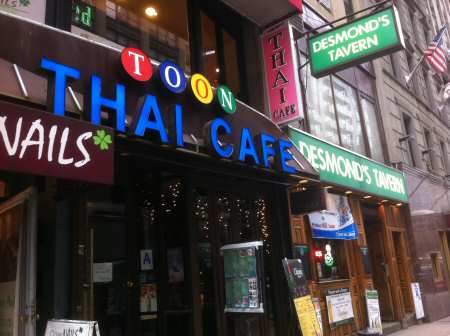 Toon Thai Cafe on Park Ave, NYC
No issues, unlike at Indian restaurants where you often feel choked by indifferent service and funereal ambiance.
SearchIndia.com heartily recommends Toon Thai Cafe located at 435 Park Ave South at E 30th St in NYC for its lunch offerings.
The next time your iPhone runs out of juice just pop into Toon Thai for a recharge and some nice Thai Basil Chicken.
All in all, I thought spending $10 for the 10-cents it cost to rejuvenate my iPhone was a good deal!