"Jump"

I look up at the night sky. I try again. And that is when the moon drops, and I float bodiless above the earth's turning.

– Amit Majmudar, The Abundance, P.255
I stumbled upon Amit Majmudar via his recent essay in the pages of the New York Times.
In the essay, Majmudar, a radiologist in Columbus (Ohio), sounds peeved about his new book (The Abundance) being described as an "immigrant experience."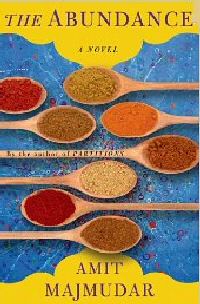 Majmudar's previous work, his debut novel Partitions, picked up a couple of awards and was generally well received.
But I was blissfully unaware of it.
Even if I'd read about Majmudar's first book, it has long dropped off my consciousness.
Piqued by the NYT essay, I picked up Abundance from the new books section of our local library.
Not a Bad Read
Abundance is not an outstanding book but certainly one worth reading.
The novel is written from the perspective of an Indian-American woman dying from cancer.
Do we even know the narrator's name? I doubt it.
Notwithstanding what you may hear, Abundance is not just about Indian cooking or a tense mother-daughter relationship.
Thankfully, the book is so much more.
Abundance runs the gamut – dwelling upon family, love, disappointments, disagreements, cooking, Indian origins, migration, displacement, raising children in America, Gujarati food and the strong ties to Indian ways.
The book glides smoothly between the present and the past, between Cleveland and India (Gujarat), as it gently touches upon so many events dating back several decades.
The Indian idiom flows in abundance throughout the book.
From the setting of dahi (making yogurt) to the difficulties of evicting tenants in India and the practice of arranged marriages, this is a book with Mera Bharat Mahaan at its core.
Indians can easily relate to Abundance.
I found the last three chapters very poignant as we draw near to the denouement, the narrator's death.
But why is Dal spelled Dahl in the book. Oh well, I had to whine about something. 😉
They say at the moment of death, one's entire life passes by in a flash.
In Abundance, the narrator's entire life passes by in slow-motion over a 11-month period, from just before Christmas to Thanksgiving Day when she gives up the ghost.
SearchIndia.com recommends Abundance.