Ouya, an open sourcing gaming console for the TV, debuted today at a modest price of $99.99.
For the price, you get the Ouya console and a controller.
Each extra console is $49.99.
Ouya has been launched in the U.S., UK and Canada.
The console quickly sold out at most places.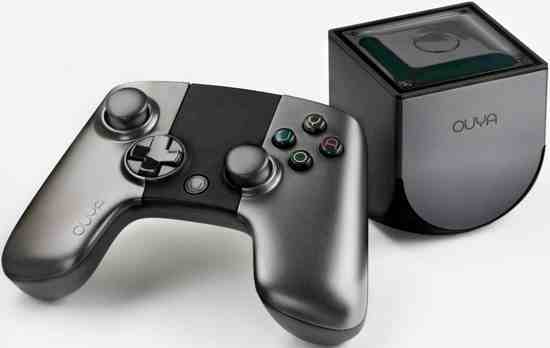 Console for the Masses
Ouya's console looks sleek, as do most electronic widgetry these days if they want to survive.
The 3″ x 3″ aluminum console is designed in the form of a cube running a modified version of the Android operating system built on an NVIDIA Tegra 3 chipset.
The console comes with 1GB of RAM (memory) and 8GB of internal flash storage.
Users can add storage via the USB port, of which there are two in the console (USB 2.0 and a MicroUSB port).
Ouya is promising "fast performance, amazing graphics, and surround sound in 1080p HD."
The reviews should tell us if these claims can stand up to rigorous testing.
Ouya's controller features two analog sticks, D-Pad, eight action buttons, a system button, touchpad and Bluetooth connectivity.
A bunch of streaming video and music apps (Twitch.tv, Plex, XBMC, TuneIn, Crunchyroll and iHeartRadio) are available.
Ouya is far cheaper than the two console Goliaths,  Sony PlayStation 4 ($400) or the Microsoft Xbox One ($500).
The big question is: Can Ouya dent the dominance of the two big console game vendors Microsoft (Xbox) and Sony (PlayStation) or at least expand the market?
Game Availability
Gaming consoles live and die on the games that run on their hardware.
Ouya is debuting with 170 games available for download.
Apparently, all games are free-to-try.
Games available include Chronoblade, Beast Boxing, Final Fantasy III, Saturday Morning RPG, No Brakes Valet and Sega's Sonic games.
Since games are offered only through download, there's no question of discs.
Ouya says customers own their games forever in a reference to recent controversies on Xbox One.
Games in the Ouya store are organized by player engagement. Plus curators share favorite game picks.
Developers
The console has a built-in software development kit to let developers build and test games.
You can be sure we'll check out the kit once we lay our hands on the console.
What's in the Ouya Box?
– Game console
– Wireless controller with removable faceplates
– HDMI cable
– Two AA batteries
– Power adapter
SI's Ouya Order
This morning, we ordered the Ouya console at Best Buy.
They confirmed the order for store pickup.
But some 25-minutes later, Best Buy sent another e-mail stating that the console was not available.
When we called Best Buy customer support, we were told the earliest available date at a store near us was June 29.
So barring another screw-up by Best Buy, we should be playing with the Ouya console on Saturday.
By the way, Ouya is also sold out at Target and Amazon.