If I were in the market for a Windows 8 PC, I would buy the Dell XPS 8500 offered by Deal Fisher today for $699.99 in a heartbeat.
The price is at least a few hundred dollars less than what I could find elsewhere.
Whether you're doing high-end multimedia work or gaming, this computer can handle all the demanding requirements.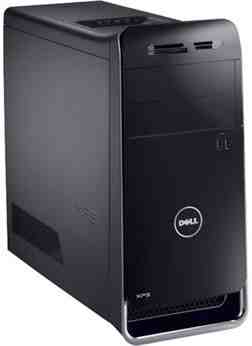 Impressive Specs
Man, these specs are gonna blow you.
All rippling muscles, these specs!
The Dell XPS 8500 desktop comes with Intel Core i7 quad core Ivy Bridge processor, 12GB DDR3 RAM and a humongous 2TB SATA 7200 RPM storage.
With 2TB of storage in that black box, ask not what you can shove in there!
Ask instead what you can't!
The PC has 10 USB ports (four USB 3.0 and six USB 2.0), HDMI, DisplayPort, DVI, S/PDIF, NVIDIA GeForce GT 640 with 1 GB graphics memory and Bluetooth.
Headphone output, Microphone input and RJ-45 Ethernet Port (10/100/1000) are present too.
A 460w power supply can take anything you throw at it.
There's a 16x CD/DVD burner (DVD+/-RW) when you want to transfer your iTunes purchases to a CD to listen in the car.
But I couldn't find any memory card slots. Not a big problem since most cameras come with a USB cord to transfer pictures to the PC.
A wired keyboard and mouse are part of the package.
Yes, the system is new and comes with a one-year warranty. I am not a big fan of buying refurbished products and prefer to stay away from them. No such worries here because the Dell XPS8500 is a new system.
Get a good monitor for $200-$300 and you're all set to conquer the world.
Where To Buy
Head to Deal Fisher soon because this attractive offer is valid only for another 13-hours or so.
As an icing on the cake, shipping is free for the Dell XPS 8500 desktop (Model No – X8500-4742BK).
Caveat Emptor: As with all deals in life, watch your step carefully!