As an Indian, I'll be the first to admit that Google's spanking new Chromecast streaming device appeals to my cheapo desi instincts.
I'm already drooling over the price!
Hey, $35 seems like a steal for a device that can 'cast' content from a small-screen device like laptop, smartphone or tablet to your big-screen TV.
Chromecast even comes with three months of free Netflix (for both new and existing subscribers). Since a lot of Indians subscribe to Netflix in the U.S., that's a savings of $24 (assuming you have a one DVD at a time Netflix plan).
Google ended the Netflix promotion less than 24-hours after Chromecast's launch citing "overwhelming demand."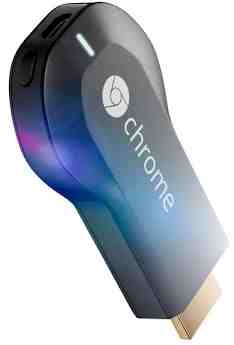 Chromecast
Chromecast is Google's second shot at a streaming device.
The company's earlier Nexus Q box, which worked only with Android devices, turned out to be a stillborn initiative and was never launched.
But Chromecast is platform-agnostic and works with both Windows and Mac on the desktop side and IOS and Android devices on the mobile front.
What Chromecast Does
Chromecast is a small device that plugs into the HDMI port of your big screen high-definition TV.
What it does is to "cast" online content on your PC/Mac, smartphone or tablet to the TV via WiFi. You charge the device via the USB port.
It works with both Android and iOS (Apple) devices. But you must download the Chrome browser for the device to work.
At present, Netflix, YouTube, Google Play Movies & TV, and Google Play Music work with Chromecast. Expect more apps like Pandora to hop aboard the Chromecast train.
There's no remote for the Chromecast since you control play, pause, volume etc from the PC/Mac, tablet or smartphone.
Even as your favored entertainment plays on the TV, you can do other things on the PC, tablet or smartphone.
Google is releasing a Google Cast software development kit to let developers make their apps compatible with the Chromecast device.
Chromecast for Roku Owners
But here's the big question – Is Chromecast worth buying, particularly if you already own a Roku device?
No!
For Roku owners, Chromecast is not worth it even at the low price of $35.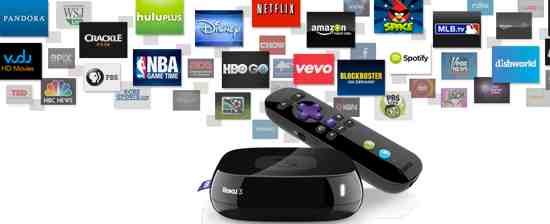 Roku Boxes – $49 to $99
Roku already provides direct streaming to Netflix, Hulu and countless other entertainment sources via WiFi or Ethernet
Plus, the Roku box has multiple advantages:
* It comes with its own remote
* You do not need to play the entertainment program on your tablet, PC/Mac or smartphone and then 'cast' it to the TV because Roku is directly connected to the TV
* You do not need to download anything to your PC/Mac (with Chromecast, you must download the Chrome browser to your PC/Mac)
* There's far more content available on the Roku compared to Chromecast, which currently has only a few smartphone/tablet apps that are compatible with the device
Roku offers four devices ranging in price from $49 to $99.
By the way, Apple's AirPlay technology also lets users wirelessly stream content on their iPhones and iPad tablets to big-screen TVs and speakers via the $99 Apple TV device.
Apple TV owners can even mirror content playing on their iMacs to the TV set.
My sense is that Chromecast is a late arrival to the entertainment party.
Will Chromecast Fly?
It's hard to provide a definitive answer whether Chromecast will be a hit with consumers.
We know that the American consumer has an enormous appetite for entertainment gadgets. An average American home already has a big-screen TV, a gaming console, a smartphone, a tablet and subscription to services like Netflix or Hulu.
But my gut feeling is that notwithstanding Chromecast's low price it might not be a big draw in the U.S. since millions of consumers already have devices like Roku or Apple TV that stream Netflix, Amazon Instant, Hulu Plus and other content to their big-screen TVs.
Chromecast might have greater appeal outside the U.S.
Middle class consumers in China and India who don't have access to devices like Roku might be tempted into buying a cheap device to hook up their laptops, tablets and smartphones to the big screen high definition TV.
There's also a big question mark on whether developers will work on making their tablet and smartphone apps compatible with Chromecast.
Since I already own the Roku and have not had any serious issues with it, it's unlikely I'll buy the Chromecast device.