Considering Google paid a whopping $12.5 billion for the Motorola acquisition, I'm disappointed with the new Moto X smartphone.
Launched yesterday, Moto X is the first smartphone offering from Motorola after it came under Google's stewardship.
Moto X should be available later this month or in early September in the U.S. and Canada for $199 (with a two-year contract).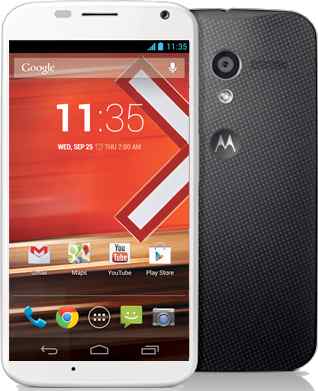 Nothing Compelling
Other than a few voice activated functions, easier photo-taking and customizable colors, there's not much to be said for the assembled-in-USA Moto X, which runs Google's Android software.
I cannot imagine too many people jumping up in joy at the prospect of getting a black case on the front, red color on the back and yellow accents for their smartphone.
Only those with IQs below 75 are bound to get excited over gimmickry like 2,000 possible variations of the Moto X.
Otherwise, the Moto X is your average smartphone with capabilities not too different from the iPhone 5, Samsung Galaxy 4 or the HTC One.
Moto X has a 10MP rear camera, a 2MP front camera, 4.7-inch AMOLED screen and a battery supposedly good for 24-hours. It comes with 2GB of RAM and 16GB or 32GB of storage.
The phone runs the slightly older Android 4.2.2 software and weighs 130 grams.
Now if these specs and color customizations are the fruits of a $12.5 billion acquisition, then I must say the engineers and designers at Motorola and Google are an overrated bunch.
Won't Fly
Don't expect to see Moto X fly off the shelves.
The U.S. smartphone market is a mature business with the majority of customers locked into two-year contracts with their carriers AT&T, Verizon or Sprint.
So consumers are unlikely to see a compelling reason to cut their contracts, pay a penalty and buy the Moto X.
Any purchases of Moto X must come only at the end of contracts.
Further, Android has never engendered the fierce following that iPhone has among the Apple fan-boys. A new version of iPhone invariably generates lines at Apple stores.
Moto X is also not likely to find favor in fast growing emerging markets like India and Brazil where consumers' lower purchasing capacity steers them toward cheap Android smartphones from Chinese vendors like Huawei and Lenovo.
I'd be extremely surprised if Moto X turns out to be a big hit in the U.S. or anywhere else notwithstanding the paeans being sung by know-nothing bubbleheads.
A cheaper version of Moto X is supposedly on the cards.
Perhaps, that'll have better prospects.