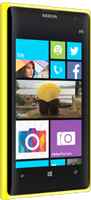 It's no secret that the Windows Phone has met with an underwhelming response from consumers.
According to numbers put out by market researcher IDC today, shipments of Windows phones in the second quarter of 2013 was 8.7 million units compared to 187.4 million units for Android phones and 31.2 million for iPhones. (Actual sales of Windows phones could be lesser because shipments include phones still on retailer shelves.)
One of the reasons Windows smartphones have failed to gain acceleration is that the quality and quantity of apps for Windows phones has lagged Android smartphones and iPhones.
Au contraire, Android phones and Apple's iPhones each have a breathtaking array of several hundred thousand apps for customers to play with.
Developers have not been keen on investing time and money on building apps for Windows phones since there are not many takers for these smartphones.
Silly Move
Now in desperation, Microsoft has unveiled a silly initiative called Windows Phone App Studio to let developers build Windows apps in four easy steps.
Microsoft is even providing templates to developers to make the developer process faster. The templates are supposed to help developers in designing sections, data sources structure, content and style of the app.
Once the app is ready, developers can install it on their Windows phones to test and refine it.
It's not clear how these apps will be added to the Windows Phone App Store.
Here's how Microsoft describes Windows Phone App Studio:
The Windows Phone App Studio lets you swiftly build apps for immediate publishing, testing, and sharing with clients, co-workers, and focus groups. Need to make changes or try variations? With the App Studio it's a snap!

And when you're ready to add advanced programming features, the Windows Phone App Studio generates your source code – a feature no other app-builder tool provides. Get with the program!
Windows Phone App Studio is what I call the Himalayan heights of silliness.
Serious developers who think big are not into gimmickry like "4 Easy Steps" nor do they rely on the crutch of templates to build their apps.
Microsoft said Windows Phone App Studio is currently in beta (testing) but provided no launch date.
Microsoft's previous effort to boost Windows Phone app availability through a partnership with ChevronWP7 Labs was a dud.
I expect Windows Phone App Studio will also end up as a big failure.
I bet serious developers are laughing their heads off at Microsoft's clumsy efforts to bring them on board the slow-moving Windows Phone train.