If there's one thing Chutiyas a.k.a. Indians love more than even their litter (children), it's free stuff.
Mention the word "free" and you'll draw Indians into a Pavlovian paroxysm of drooling, inducing a flood of saliva on the floor.
So here's my contribution today to getting Chutiyas into a drooling fit with a free personal cloud.

From Cloud to Cloud Computing
In my halcyon younger days, cloud only meant that blue nimbus thing in the sky where Vishnu, Shiva and Brahma had their celestial abode, frolicked with Rambha, Urvashi and Menakha and pulled the strings on us mere mortals.
Also that space above from where rain and snow fell and on your lucky day a rainbow appeared to tell you that there was still magic in the world
Then came Cloud Computing and changed the meaning of cloud forever.
Ask any Indian degree-holder younger than 30 what a cloud is and all he can think of is DropBox, iCloud (Apple), Google Drive, SkyDrive (Microsoft), Box etc.
I have not the slightest doubt that at least 25% of the free accounts on all these cloud storage and file sharing services are held by Indians oops Chutiyas.
Cloud in the NSA Age
But public cloud storage in the era of endless snooping by NSA is sheer folly.
Why would you want to store and ipso facto expose your precious private documents to snooping and editing by the NSA drones?
Utter folly, if you do that.
Fortunately, technology is moving at a rapid pace giving citizens some degree of privacy. Hopefully.
Personal Cloud – Better Idea
A better idea is personal cloud where your data is stored locally (i.e. on your hard disk) but you still enjoy remote access and file sharing with friends and family.
Fortunately, there are a bunch of technology companies that allow the creation of personal clouds.
I tested one such offering from a startup called Younity.
The tiny outfit provides a free service that lets you access files, documents and images on your Mac or Windows PC from an iPhone or iPad.
I installed Younity on a Mac running Mountain Lion (10.8.4) and accessed files on the Mac from my iPhone 4.
How Younity Works
You need to download an app for the Mac/Windows computer from the Younity web site and from the Apple App Store for the iPhone, iPod touch or iPad before you can set up the personal cloud.
The downloads went smoothly both on the Mac and iPhone (running iOS 5.1) but not on the iPad (it insisted on iOS 5.1 or higher).
Younity supports Windows XP, Vista, 7 and 8; Mac OS X 10.6, 10.7 and 10.8 and Apple iOS 5.1.1 and above.
After installation on the Mac, the Younity app asked me to register via Facebook, Google+ or e-mail.
Once you complete registration, Younity installs a Y icon on the menu bar.
Younity's software scans your Mac hard drive and then downloads the metadata on the iPhone (took 45MB of storage on my iPhone).
In about 10 minutes, you're good to go.
I was able to easily access text files, music and images on my iPhone that were stored on the Mac.
I tested access from the iPhone on both WiFi and 3G – Worked fine on both.
There's also an option to save the file on the remote machine (Mac in my test) to the iPhone, iPad or iPod touch.
Without any hassle, I picked a text file from the Mac, opened it and then downloaded it to the iPhone.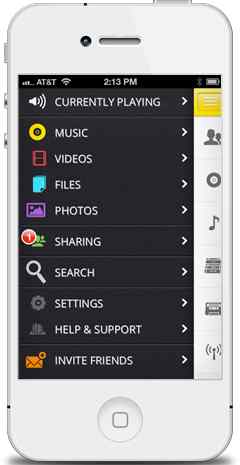 Younity App on iPhone
As I type this, I'm playing Mozart Symphony #40 in G Minor K 550 Molto Allegro which resides on the Mac's iTunes on my iPhone on 3G. Smooth streaming.
Younity promises its service is secure and that all communication and metadata transfers between your devices are done over SSL (Secure Socket Layer).
By the way, you can install Younity on multiple computers and access files and documents and videos from all of them on the iPhone or iPad.
One important caveat – Your Mac or PC should be powered on and connected to the Internet if you want to remotely access your file, document, image or video via the iPhone, iPad or iPod touch.
Also, Younity does not currently support Android devices.
You can share files with other Younity users or with Facebook friends.
Alas, since SI am friendless, I could not test the 'sharing' feature.
Bug – I may have encountered a bug in Younity after streaming a song from iTunes (on my Mac) to the iPhone. Now each time I open Younity on the iPhone it starts playing a song from my Mac iTunes Playlist and I have to manually stop it. Or maybe I'm missing something in the setting. 🙁
Bottom Line
Of course, there are other methods to set up a personal cloud.
For instance, you can purchase a LaCie CloudBox ($120 for a 1TB box) and set up a personal cloud.
There are also companies like Tonido (founded by Madhan Kanagavel) that offer personal cloud services.
But in my not so humble opinion, Younity seems like a easier and simpler technique to set up a personal cloud with the advantage that you're using existing resources and don't need to buy a new storage device or pay a monthly fee.
Above all, it's a Personal Cloud, a cloud that you control.