My two favorites, U.S. and  India, lead the pack of 74 countries requesting information from Facebook on users.
Government requests to Facebook include basic subscriber information (such as name and length of service), IP address logs and actual account content.
The majority of requests made by governments are said to be related to criminal cases and national security.
Information on the government requests was disclosed today in Facebook's first Global Government Requests Report.
The report covers the first six months of 2013, ending June 30.
Here's a list of a few prominent countries that have made user information requests to Facebook: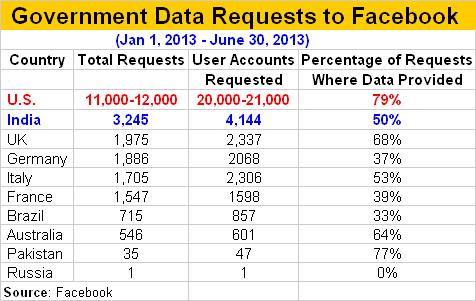 Indian Requests
Indian authorities made 3,245 requests for information on 4,144 Facebook users/accounts.
Since the Indian police and justice system is hopelessly corrupt and dismally incompetent, I'd consider at least 50% of the requests for information on Facebook users to be utterly frivolous and completely unnecessary.
Facebook acknowledged that it had handed over information on 50% of the requests made by Indian agents.
U.S. – Tops the List
Given all that we know of widespread spying on both Americans and non-Americans by the NSA, FBI, NYPD and other law enforcement agencies, it's not surprising that the U.S. makes the maximum no of requests on Facebook users/accounts.
U.S. requests on Facebook users is more than all the other nations combined.
Facebook said it provided data to the U.S. on 79% of the 11,000-12,000 requests.
Based on pathetic defenses by the U.S. over massive spying by the NSA, it would not surprise me if a lot of U.S. requests for Facebook user information are nothing more than fishing expeditions.
I also consider U.S. requests a gross underestimate since American law enforcement agencies impose rigid conditions on recipients (be they Facebook, Google, Yahoo, LavaBit or any other organization) over disclosure of any information requests. Facebook was forced to use ranges only for the U.S.