Microsoft's acquisition of Nokia's mobile phone devices business means that Nokia's new Asha $99 low-end smartphones for countries like India will die an inglorious death sooner rather than later.
As part of the deal to acquire Nokia's devices and services, Microsoft will get the Asha brand too.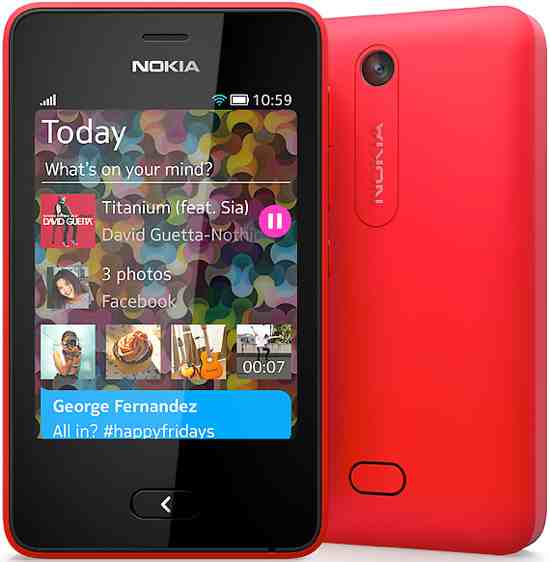 Asha Smartphones from Nokia
Asha Doomed
Nokia's Asha platform is not based on Windows Phone but instead runs on software from a tiny Norwegian startup Smarterphone that Nokia acquired in 2012.
Asha 501, which was supposed to be the first in a line of smartphones, is a 3-inch touchscreen device with a 3.2 megapixel rear camera that supports both still and video. Weighing 98 grams, the glass and plastic phone is 12.1mm thick and comes with 4GB of storage (expandable to 32GB), Bluetooth, USB 2 and Nokia's Xpress Browser. Asha 501 supports single or dual microSIM cards, 2G connectivity and has a talk-time of 17-hours.
Although Microsoft says it expects "Nokia's mobile phones to serve as an on-ramp to Windows Phone," I cannot imagine Microsoft peddling and supporting two smartphone platforms simultaneously.
Remember, this is a company that's struggling to make a success of a single platform (Windows Phone) so far.
Microsoft's strategic rationale for the Nokia devices deal also makes it clear that the plan is to have one brand.
"One Brand, United Voice," says Microsoft in its strategic rationale for the Nokia mobile devices acquisition (see p.10 of the strategic rationale slide).
And that brand is not Asha but Windows Phone.
Further, try as it might Microsoft/Nokia will find it hard to push the Asha smartphones against the cheap Android devices from China that are flooding into India and other Third World nations.
Developers must have written off Asha the moment Microsoft's press release announcing the deal with Nokia crossed the wires a few hours back.
Plus the low margins from Asha will not make Microsoft or its shareholders happy.
My prediction is that the Asha brand will not last beyond 18-months.