In the business of life, every tiny episode is a test, every human encounter a lesson. Look and learn.
– the Five Star Billionaire Walter Chao
Drowning in a Svedka stupor, I'd be hard pressed to tell you how I stumbled upon Tash Aw's new book, Five Star Billionaire.
How does it even matter?
The book is what counts.
And it is a gem.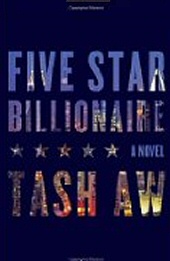 Mumbai on Steroids
Indians awed by the frenzy and chaos of Mumbai would be stupefied to learn that Shanghai is Mumbai on steroids.
A giant city that inspires gigantic dreams but mercilessly crushes the spirit of even the most daring souls, always one step ahead of its residents.
To this pollution-filled megalopolis of gleaming skyscrapers, vast construction holes in the ground and 23-million striving individuals, come four young Malaysian migrants (two men and two women) with a desperate yearning for wealth, happiness and, above all, a new beginning in life.
Five Star Billionaire is the account of these migrants churning within the grinding mixer of Shanghai, a heady brew of high aspirations, betrayals, pretensions, passion, failure, revenge and ruthlessness.
Tash Aw has created four memorable characters, set them in the world's most happening city and painted them in dazzling hues.
Five Star Billionaire has been longlisted for the Man Booker Prize 2013.
Most U.S. libraries carry Five Star Billionaire.
Reserve your copy today.