When two smartphone failures join hands, the end result can only be a mega-dud.
Microsoft is shelling out $7.2 billion in cash to buy Nokia's mobile phone devices, license some patents and get access to Nokia's mapping services.
The deal will swell Microsoft's headcount from 99,139 (on June 30, 2013) to 131,199.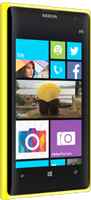 Nokia Lumia Smartphone
(Powered by Windows Phone)
How To Piss Away $7.2B
The two companies are not strangers to each other.
Nokia's Lumia smartphones, which have so far failed to set the market on fire, are powered by Microsoft's Windows Phone software.
But Nokia is not among the Top-5 smartphone vendors (source: Gartner).
So far Microsoft (via Nokia) has failed to make a significant dent in the smartphone business. It holds a minuscule 3.3% marketshare compared to 79% for Android and 14.2% for Apple's iPhone.
Microsoft CEO Steve Ballmer expects "this acquisition to be accretive to our adjusted earnings per share starting in fiscal year 2015, and [present] significant long-term revenue and profit opportunities for our shareholders."
Ballmer also told Microsoft employees in a letter that the Nokia deal is a "smart acquisition for Microsoft."
But buffoons say all kinds of nonsense and engage in all kinds of juvenile antics.
No one in their right mind would take a corporate clown like Ballmer seriously given his less than flattering record in the mobile domain!
In my not so humble opinion, the Nokia deal is perhaps the last crushing blow Ballmer is inflicting on Microsoft before his departure.
Just in case you've been hiding under a rock, Ballmer is stepping down as Microsoft's CEO after a disastrous reign at the top during which time the company missed both the mobile phone and tablet revolutions.
Three Issues
What I fail to understand is how Nokia Lumia's fortunes will change just because it comes under Microsoft's direct stewardship.
The same folks are running the show and there's hardly any technology or feature breakthroughs in the Nokia Lumia phones.
Second, the deal comes when smartphone sales are rising and feature phone sales are falling.
Nokia's strength has been in feature phones, mostly in Asia and parts of Europe.
North America has not been very receptive to Nokia devices.
Nokia's total mobile phone sales fell by nearly 23 million in the second quarter of 2013 compared to the same period in 2012.
In one of the telling comments, Microsoft's strategic justifications of the deal has the company touting Windows Phone outselling Blackberry (a company on its deathbed) in 34 markets (see p.9 of slide).
No mention of Android or iPhones!
Finally, there's the issue of Nokia's Asha mobile platform for low-cost smartphones. I'll deal with the Asha platform in a separate post (Asha Smartphones Screwed; Will Die Soon).
The Nokia deal is not going to give Microsoft the leg up it desperately yearns for in the mobile phone space!
Ballmer just pissed away $7.2 billion.
If Ballmer's stewardship of Microsoft proves anything at all, it is that a Harvard education is much overrated!