Who in their right minds would fork out $10 a month to read books on an iPhone!
Apparently, there are Americans who are non compos mentis enough to do so.
Why else would NYC startup Oyster launch an e-book subscription service offering a collection of 100,000 e-books across different genres for 10 bucks a month.
Oyster's service is currently available only in the U.S.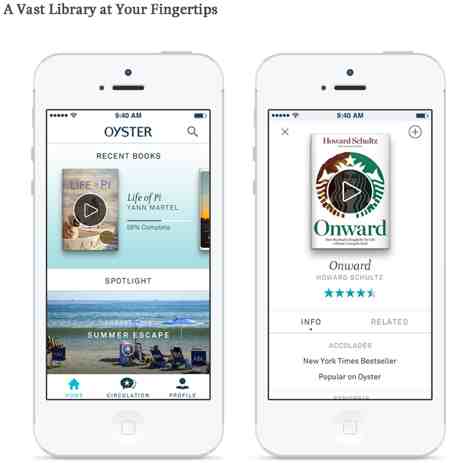 Small Screen – Bad
Seriously, an iPhone screen is either 3.5-inch or 4-inch (depending on the model).
Now don't tell me you want to read Tolstoy's War and Peace (1,225 printed pages) or William Shirer's magnum op The Rise and Fall of The Third Reich (1,245 pages) on an iPhone!
In my not so humble opinion, you need a screen of at least 9-inches to have a decent reading experience.
I find even the Kindle's 6-inch screen uncomfortable.
My favorite e-reader remains the iPad 2 with a generous 9.7-inch display.
Oyster plans to put out an iPad version of its e-book subscription service in the fall.
I might sign up with Oyster to check out the iPad version.
If I do, I'll post my experience here.
But I think $10 a month is too much given that my local library borrowings are free and university libraries (with their massive collections) charge about $2 a month for outsiders (i.e. non-students, non-faculty and non-university staff).
A more reasonable pricing plan like $5 a month would draw more subscribers to Oyster.
Print Still Strong
Americans are blessed in that they still have a decent public library system (I see lots of Indians making good use of the libraries here).
And to all those who think print is passé, I ask – When did you last visit your town, county or university library?
The overwhelming majority of books in the American library system still comprises of print books and there's a good demand for them. Just check the waiting list for popular print books.
Borrowing e-books from U.S. libraries is still a cumbersome process, at least in my state.
By the way, the Oyster service is still not open to all and currently available only by invitation.