The whole world knows Indians have poor taste in movies.
But when even Indians show the middle finger to a movie, you can imagine how terrible it must be!
Telugu star Ram Charan Teja's Bollywood debut film Zanjeer is turning out to be one of the biggest flops of 2013.
Anybody surprised?
Not us, surely.
Zanjeer (2013) was utter garbage, not worth being shown on the big screen. Maybe, straight to DVD!
Zanjeer Remake
Unless you've been hiding under a rock, you know that Zanjeer (2013) is a remake of the eponymous 1973 film starring Amitabh Bachchan.
The 1973 film catapulted Amitabh Bachchan into superstardom.
But Zanjeer (2013) has shoved Ram Charan Teja into the gutter and will certainly cause huge losses to its producers and distributors.
Here's how miserably Zanjeer (2013) fared in the U.S. compared to a few prominent Bollywood films in recent years: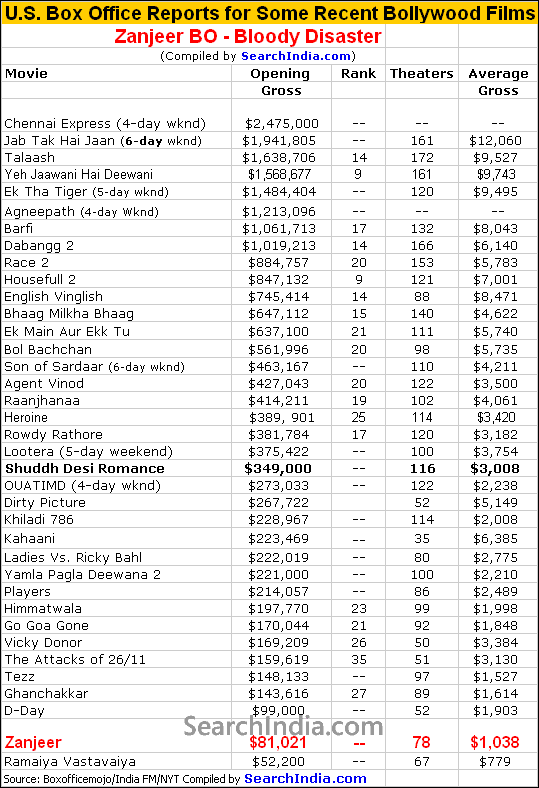 Media reports say Zanjeer has kissed the dust in India too.
By the way, the Telugu version of Zanjeer, which released as Toofan, has also not done well in the U.S. (a mere $62,054).
Now that's a miracle because Telugus have a high tolerance for junk and will watch almost anything that moves on a screen.