Ever since Steve Jobs kicked the bucket, Apple has been lean on jazzy, must-have features in upgrades to its iPhones.
In my not so humble opinion, iPhone buyers are no longer getting value for money.
I skipped the last two versions because the enhancements were gimmickry.
iPhone 4S came with a joke of a Siri voice response system and iPhone 5 was a mere 0.5-inch wider. Of course, both had 8MP cameras, better than the 5MP camera in my iPhone 4.
But Apple's devote fan base (often ridiculed as iSheep) has been lapping up the upgrades although new customers have been hard to come by in the face of a strong challenge from Samsung and HTC.
New Models – No Big Deal
A short while ago, Apple launched two new models of the iPhone – the aluminum body iPhone 5S and the cheaper, plastic body iPhone 5C.
I was praying that either of the two models would tempt me into upgrading my still running fine, three-year-old iPhone 4.
Alas, having studied their features and specs, I do not see either of the new two models worth buying.
I'd be extremely surprised if the pricier iPhone 5S model were to fly off the shelves (i.e. other than with the iSheep).
By the way, both models will come with Apple's new iOS 7 software.
I don't see how the iPhone 5S can help Apple stem iPhone's sharp marketshare decline against Android when rivals like Samsung Galaxy S4 have larger 5-inch displays and offer lower prices.
Further, the iPhone 5C's without contract pricing at $549 (16GB) and $649 (32GB) makes it difficult for the plastic iPhone to gain traction in emerging markets like China and India where $100 Android smartphones are extremely popular.

iPhone 5S – Pricier, Aluminum Body
iPhone 5S Specs
* 4-inch display
* Touch ID fingerprint sensor in the home button to unlock phone or make purchases (Use any finger)
* Aluminum body
* Three colors – Silver, Gold and Space Gray
* 64-bit Smartphone (will run older 32-bit apps as well)
* 8MP camera with enhancements like TruTone flash, auto image stabilization, burst mode and bigger pixels (1.5 microns)
* A7 system on a chip (40 times more powerful than the first iPhone)
* A new M7 motion coprocessor
* Battery – 3G talk time 10-hours & 250 hours standby
* $199 for 16GB; $299 for 32GB; $399 for 64GB (with two-year contract)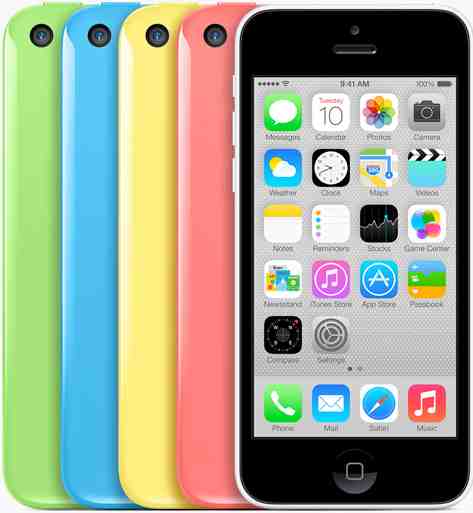 iPhone 5C – Cheaper, Plastic Model
iPhone 5C Specs (Plastic Phone)
* 4-inch display
* Five colors – Green, white, blue, red, yellow
* Hard-coated polycarbonate body
* 8MP camera
* A6 processor (same as iPhone 5)
* Slightly bigger battery than iPhone 5
* Battery – 3G talk time 10 hours & 250 hours standby
* $99 for 16GB, $199 for 32GB (with two-year contract)
Availability
Both the iPhone 5C and the iPhone 5S are scheduled to be available September 20, 2013 in the U.S., Australia, Canada, China, France, Germany, Japan, Singapore, and the UK.
No mention of the availability date for India but the new iPhones are slated to debut in 100 countries and with 270 carriers in December.
So by the end of 2013, Indians too could be playing with the iPhone 5S and iPhone 5C if they have the moolah.
Apple is discontinuing the iPhone 5 but will retain the iPhone 4S (8GB model).