HP CEO and failed governor candidate Meg Whitman must be one crazy woman!
Why else would HP announce FIVE new Android and Windows tablets when most vendors of these tablets are struggling to sell their devices and not lose too much money.
Android tablet vendors are in a price war to the bottom while Windows tablets have encountered consumer resistance owing to their high prices and limited apps.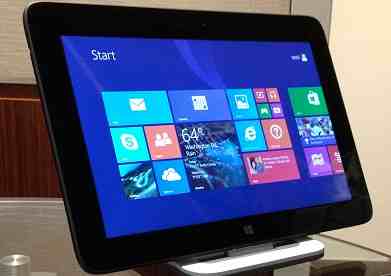 Omni 10 Windows Tablet – Doomed to Failure
Blood on the Floor
Tablets are a bloody brutal business these days.
I cannot think of a single Android or Windows tablet vendor making money. All of them continue to hemorrhage.
Further, in several visits to Best Buy and Staples I've seen few people near the Android or Windows tablets.
Microsoft recently took a charge of $900 million in its last quarter over unsold inventory piling up in stores and warehouses.
Android tablet vendors that make smaller-size tablets (7-inch) are in worse shape.
As market researcher Canalys wrote last month:
The move to smaller tablets has sparked a price war that has real consequences for the entire supply chain. These products generate little absolute margin for channel partners, vendors or component manufacturers. Content, applications and accessories (especially cases and keyboards) are now even more important to boost margins – areas where Apple remains a leader.
Even Apple, which created the tablet category, is seeing a sharp fall in its marketshare as cheaper Android tablets push down prices and grab share.
Although Apple's share of the tablet market has dropped to 42.7% in the second quarter of 2013 from 71.2% a year earlier (as per Canalys), it still enjoys high margins on its iPad tablets thanks to a devoted fan base.
Apple is likely the sole vendor making a good profit in the tablet business although its margins too must be falling (with the introduction of the 7-inch model).
Why this Madness?
So why is HP getting aggressively into the tablet game when it lacks a differentiating product and after a disastrous earlier foray with the TouchPad?
I guess the nature of modern corporations is that they must always be seen to be doing something, right or wrong.
Action, even if self-defeating, is prized in the bizarre world we now live in.
Mark my words – HP's second foray into tablets will be as costly a misadventure as the first.
Cassandra has spoken!
New Tablets – Specs
HP has not disclosed pricing for the five tablets that are scheduled to launch in November.
Here are the specs for the new tablets:
* Slate7 Extreme – Android, 7-inch display, 1280×800 resolution, NVIDIA Tegra 4 processor, Pen input option, HDMI out
* Slate7 HD – Android, 7-inch, 1280×800 resolution, optional 4G connectivity
* Slate8 Pro – Android, 7.98-inch, 1600×1200, 4:3 aspect
* Slate10 HD – Android, 10-inch, 1280×800 resolutio, optional 4G connectivity
* Omni 10 – Windows 8.1, 10-inch, 1920×1200 resolution, Atom Z3000-series CPU, 2GB RAM