Sheep, I tell you.
Nine million of them.
Apple is gloating that nine million consumers lined up and purchased the new iPhones over the September 20-22, 2013 weekend.
All for two phones, iPhone 5s and iPhone 5c, that don't add much over the older iPhone 5.
Even the Touch ID fingerprint sensor, the much ballyhooed feature of the iPhone 5s has already been hacked!
Are there no other comparable mobile phones in the world?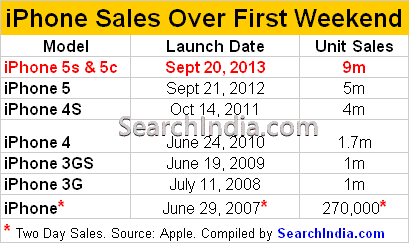 iPhone 5s Sold Out
The higher-priced iPhone 5s has disappeared from shelves.
I've checked at Walmart, Radio Shack, Best Buy and the Apple stores.
The 5s is not to be found anywhere.
But the iPhone 5c is available in diverse colors.
It looks like there's not much demand for the cheaper, made-of-plastic 5c devices.
I suspect a lot of the new iPhone sales were of the pricier iPhone 5s.

iPhone 5s – Shortage Everywhere
Apple's Clever Game
In my not so humble opinion, the publicity build-up and the record sales of the new iPhones is a brilliant coup for Apple.
I do not for a moment believe that Apple underestimated demand for the iPhone 5s.
Hey, this is not a company new to the product launch game.
Apple is a 37-year-old company, not a startup born two weeks ago. It's been peddling iPhones for over six years!
Apple made few units of the iPhone 5s, particularly the gold color model, ensuing a frenzy for the devices.
What about SI?
Well, truth be said I'm mad as hell.
Despite my best efforts, I could not get a gold iPhone 5s.
The nine million iSheep beat me to it. 🙁