Samsung launched a new line of Android tablets today including two 12.2-inch devices but couldn't resist loading them up with a ton of crapware.
By bulking up the new Galaxy NotePRO and TabPRO 12.1-inch tablets with crapware, Samsung is following in the unsavory tradition initiated by PC vendors like HP, Dell, Acer, E-Machines etc several years ago.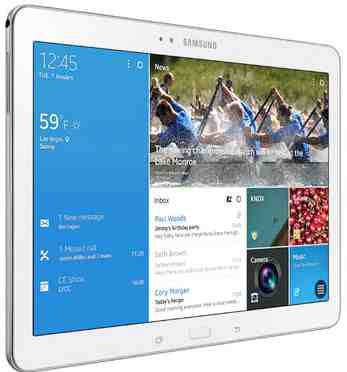 Samsung Galaxy NotePro – Filled with Crapware
Crapware – Not New
Crapware is not a recent phenomenon and I've seen it for nearly 15 years in the U.S. on new Windows PCs
By crapware, I mean the pre-installed software/services that you don't need but the PC vendors thrust on you so that they can make money off your inconvenience and irritation.
Isn't that what life all about when you boil it down to the essence – People making money by making you unhappy
In the old days, crapware used to include icons on the desktop for AOL, Prodigy or Compuserve Internet access or software for shitty games, limited version of anti-virus/spyware utilities, DVD burning etc.
The first thing I'd do after buying a new PC was to get all that junk off my PC.
Once the world moved to tablets, I thought we'd left crapware behind.
Alas, No!
Samsung Tablet Crapware
When I got the Apple iPad 2 three plus years ago, I was happy to see no crapware on the device.
Little did I know of what was to come.
A short while ago, I was reading about Samsung's new tablets that were announced today at the Consumer Electronics Show – Galaxy NotePRO (12.2-inch) and TabPRO (12.2, 10.1, 8.4-inch).
The new Samsung tablets run Android 4.4 (KitKat) and will ship later this quarter. Pricing has not been disclosed..
As I kept reading through the announcement, I discovered to my horror that Samsung has bulked up the new 12.2-inch tablets with crapware from not just one or two vendors but 13.
Here's the list of crapware Samsung is loading on to its new 12.2-inch NotePRO and TabPRO tablets – Bitcasa, Bloomberg Businessweek+, Blurb, Cisco WebEx Meetings, Dropbox, Easilydo Pro for Tablet, Evernote, Hancom Office for Android, LinkedIn, LIVESPORT.TV, NY Times, Oxford Advanced Learner's A-Z, and Sketchbook Pro.
Obviously, Samsung makes money from its deals with its crapware partners and cares two hoots about annoying its paying customers.
Of course, Samsung is not the only villain of the tablet world.
Amazon hijacks all your Kindle Fire tablets with ads unless you pay a ransom to the company to get the crappy ads of your tablet screen.
With the annoying presence of crapware, now I have one more reason not to buy a Samsung Galaxy tablet!