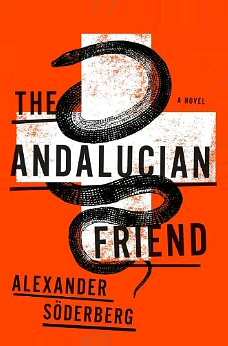 Ever since Stieg Larsson and his weirdo creation Lisbeth Salander came to the attention of the world, Swedish crime writers have hit the jackpot with the English language crowd via translations.
Swedish screenwriter (for TV shows) Alexander Söderberg is the latest Scandinavian to hop on the crime fiction bandwagon.
New Kid on the Block
The other day I picked up Söderberg first novel, The Andalucian Friend, from my local library on a whim.
The 446-page novel lacks the class and depth of Larsson's novels.
The language is mediocre. Was the translation outsourced to an Indian, I wonder? 😉
The book takes its sweet time moving into third gear.
But the story is still fairly riveting.
Multiple threads run through the book but they are decently connected.
Arms smuggling, drugs smuggling, turf wars, police corruption and betrayals intersect with the interests of criminals belonging to different nationalities (Swedes, Russians, Germans and Spaniards) and operating in multiple countries in Europe and South America.
And of course, there's always an innocent woman (with a teenager son in this instance) caught in the crossfire.
Throw in some romance involving the innocent woman and one of the bad guys and, voila, you have a spicy curry.
You'll have to be a bit patient with this book because the plot takes some time to get into top gear.
Once it does, the bullets start firing, the drug intake increases and the book finally starts to provide some rewards for the time you spend on it.
I expect a sequel is in the works.
If you don't expect too much from The Andalucian Friend you won't be disappointed.