LG Electronics will launch its new G3 premium smartphone on May 27 and 28 at events in New York, San Francisco, London, Seoul, Singapore and Istanbul.
But the big question on many minds is whether G3 will move the needle on LG's marketshare in the smartphone arena.
Can the G3 help LG turn into a contender in the smartphone arena or will it be another ho-hum product like its predecessor, the G2?
A lot hinges on the G3 for LG if it wants a seat at the smartphone table with the big boys (Samsung and Apple).
Not a Contender
Let's face the truth – LG Electronics has so far not been a major contender in the smartphone business.
In the first quarter of 2014, LG sold 12.3 million smartphones and ranked fifth among major vendors.
LG's marketshare in the first quarter of 2014 was a mere 4.4%, down from 4.7% in the same period last year.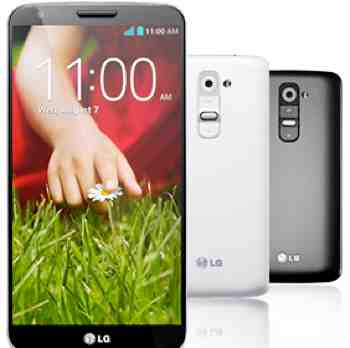 LG's G2 Smartphone – Tepid Response
Now take LG's rival Samsung, right in its backyard South Korea. In the first quarter, Samsung sold 85 million units and was the top smartphone vendor with 30.2% of the smartphone market.
Apple was the No-2 player with 43.7 million units (15.5% marketshare) in the first quarter.
Together, Samsung and Apple continue to dominate the worldwide smartphone market leaving manufacturers like LG and HTC to pick up the crumbs.
LG Struggling
LG is hemmed in on one side by market leaders Samsung and Apple that peddle premium smartphones like the Galaxy S5 and iPhone 5S respectively.
On the other side, it's being elbowed aside by low-priced Android smartphone vendors like Xiaomi, Huawei, Lenovo etc.
Pressure from the cheap smartphone vendors can only intensify as Xiaomi expands into more countries.
Although smartphone sales rose 19% year over year in the first quarter of 2014 to 12.3 million units, LG's Mobile Communications division reported a loss in the first quarter of 2014 due to declining average selling price and worsening domestic market conditions.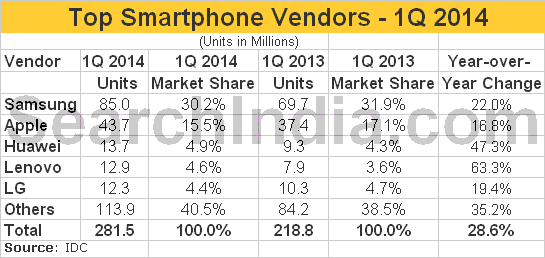 G2 – Ho Hum Response
Launched in August 2013, LG's G2 Android smartphone failed to leave much of an impact.
G2's specs were not bad. It had a Snapdragon 2.26Ghz quad-core processor, 5.2-inch full HD IPS display, 2GB RAM, Android Jelly Bean 4.2.2 (at launch) and a 13MP camera with optical image stabilization. Instead of on the side, for the first time in a smartphone, all the buttons were placed on the rear of the device in the G2.
Although reviews for G2 were mostly on the favorable side, the phone failed to capture the imagination of consumers.
There was nothing in the G2 that enabled it to stand out amid the Android crowd.
Also, G2's thunder was quickly stolen by Apple's iPhone 5s and 5C, which debuted in September.
LG's team has proved to be no match for Samsung's aggressive marketing push of the Galaxy S4 and S5 smartphones.
G3 – 2K Display
Based on rumors and leaked pictures, it appears that LG intends to continue placing buttons on the back on the G3 as well.
But the biggest change in the G3 could be in the introduction of 2K display (2560×1440).
Although a Quad HD resolution with 534 pixels per inch is bound to attract some oohs and aahs (Samsung S5 has 1080p display) and give LG some bragging rights, it may not be that big a deal on a small screen.
If you give credence to the rumors swirling around G3, the screen size may go up to 5.5-inches.
G3 may also get a memory bump to 3GB (2GB on the G2). Expect it to come with a 16MP camera with optical image stabilization and a Snapdragon 801 processor.
The leaked pictures (if they're genuine) show a less cluttered user interface on the G3 compared to the G2.
There's also some talk of a fingerprint scanner and a heart rate sensor.
G3 should start shipping by July.
I expect pricing for G3 will remain unchanged from G2 levels and start at $200 (with a two-year contract in the U.S.).
While the current buzz is all on the just released Samsung Galaxy S5 and Apple's rumored larger-screen iPhone 6 expected later this year, I wouldn't write off LG in the smartphone business yet.