Was it just yesterday that we were all fiddling with our flip phones and slider phones?
Gosh, now even my Luddite friends in New Jersey and Gujju acquaintances in Philadelphia have gone the smartphone way, all of them sporting iPhones.
When Gujju behns at Dunkin Donuts start to embrace smartphones, you know the end is near for feature phones.
Forget U.S. and Europe!
Even in India, Indonesia, China, Pakistan and other third world corners, consumers are beginning to ditch their feature phones for smartphones, usually cheap Android devices.
Smartphones accounted for 62.7% of all mobile phone shipments in the first quarter of 2014 (up from 50.7% of all mobile phone shipments in the first quarter of 2013), according to market researcher IDC.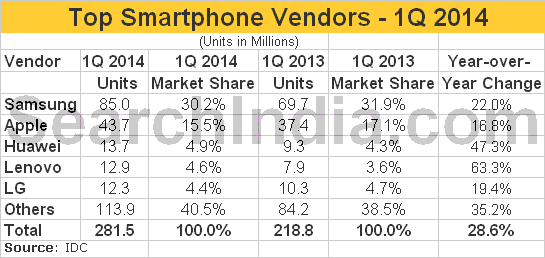 IDC predicts that total smartphone shipments worldwide will hit 1.2 billion units in 2014, an increase of 19.3% year over year from the one billion units shipped in 2013.
Big Winners
As smartphones proliferate into the far corners of Asia, Africa and South America, the big winners will not be current leaders like Samsung or Apple.
Au contraire, the big winners in the smartphone battle will be cheap Android phones like Xiaomi, Huawei, Cyrus, Lenovo A Series, Karbonn, Micromax and the like.
Huawei and Lenovo are already growing faster than LG, Apple and Samsung.
With powerful processors, solid cameras and countless apps from the Google and Amazon app stores, these low-priced Android smartphones will apply severe pricing pressure on vendors of premium devices like Apple and Samsung.
In the first quarter of 2014, Apple posted the lowest year-over-year growth among major smartphone vendors.
Is the writing already on the wall?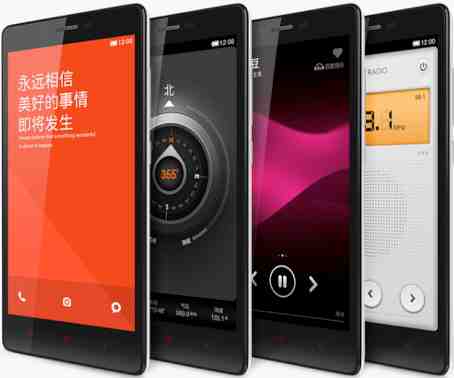 Xiaomi Redmi Note Phablet
(Pix Courtesy – GSM Arena)
There will be a lot of blood on the floor in the forthcoming smartphone battle between premium device vendors and the low-cost mobile phone manufacturers.
It's hard to imagine that the likes of HTC, LG or Microsoft will be able to survive the coming carnage.