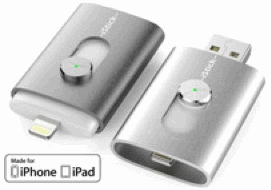 I love the idea of iStick, which debuted on crowd funding site Kickstarter three days back to a rousing response.
Against a target of $100,000, iStick has already received pledges for $413,717 (as of 2:15AM ET, May 5, 2014) and still has 33-days left before the funding campaign ends.
I won't be surprised if funding pledges exceed $1 million.
What is iStick?
iStick is basically a USB drive with an integrated Apple lightning connector for your iPhone, iPad and iPod Touch devices (all of which by the way lack a USB port).
With iStick, you can move data between Mac/PC, iPhones, iPads and iPod touches without iTunes, Internet or the Cloud where you constantly have to worry about hackers/NSA stealing your stuff.
You can stream movies, download photos and play music via iStick. It supports a variety of video, audio, image and document file formats.
There's an accompanying free iOS app for the device that is slated to ship in late August.
All in all, iStick looks like a cool device.
Obscene Pricing
But what I find uncool about iStick is the obscene pricing.
Here's the retail price for various storage capacities of iStick:
* 8GB – $129
* 16GB – $169
* 32GB – $199
* 64GB – $299
* 128GB – $399
Some discounts are available for Kickstarter backers.
At the above retail prices, I doubt iStick will be a big hit with average consumers. If you ask me, Sanho Corporation (iStick's parent company) will be forced to get pricing down to more reasonable levels.
Here's a video on how iStick works: