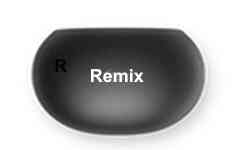 Just as millions of Android smartphone owners are struggling with the Stagefright nightmare, a $30 mini Android PC is rocking the crowdfunding site Kickstarter.
With 17 days still left for the campaign, Remix Mini Android PC has received commitments from over 16,000 backers for nearly $1.2 million.
The overwhelming response from the 'crowd' suggests Remix Mini Android PC is one of the biggest hits on Kickstarter.
What is Remix Mini Android PC?
Mini PCs are dime a dozen these days starting from Intel's HDMI stick PCs (Windows and Ubuntu) to the MintBox Mini (Linux Mint).
And Android is already on several hundred million smartphones and tablets.
But here's what makes Remix Mini Android PC stand out from its countless PC siblings and Android devices – The beauty of Remix Mini Android PC is that it pulls familiar PC features like taskbar, multiple window multi-tasking, mouse and keyboard support, and marries it with the breadth of the Android app ecosystem containing 1.5 million apps.
A marriage made in heaven? Time will tell.
The hype and hoopla about the device notwithstanding, I'm more than a little concerned though about how Android apps (typically built) for small screen devices like smartphones and tablets will look on a 20-inch or 27-inch PC screen.
Remix Android PC Specs
Remix Android PC is powered by a 64-bit chipset and comes in two varieties.
The base $30 model offers 1GB of RAM and 8GB storage (the $20 "early bird" is sold out). For $40, you get 2GB RAM and 16GB storage.
I'd opt for the $40 model (you can never have more memory or more storage).
At the heart of Remix Mini Android lies a custom version of Google's Android Lollipop software called Remix OS.
In typical Kickstarter hyperbole, Remix Mini's developers claim the device "gives you a PC experience unlike anything on Android and an Android experience unlike anything on a PC."
We'll know soon enough if performance matches the hype since the device is set to launch in October 2015.
In case you're tempted to toss in your $30 or $40 for a Remix Mini Android PC, here are the specs for the device:
* 1.2GHz quad-core ARM Cortex A53 (64-bit) Allwinner
* Dimensions – Height (1-inch), Length (4.9-inch) and width (3.5-inch)
* 8GB ($30) or 16GB ($40) storage
* Two USB 2.0 ports
* HDMI port
* WiFi 802.11b/g/n
* Bluetooth 4.0
* Ethernet port
* MicroSD card slot
* Dedicated File Manager (a Remix OS feature)
* Resizable Windows (a Remix OS feature)
* Mouse and keyboard support
* Support for 4K HDMI output
* Headphone port
Total Cost
Oh, I almost forgot.
Since Remix Mini Android PC ships from China, you'll have to add shipping fees ($15 to the US and $30 to India).
So your $40 device becomes $55 in the US or $70 in India.
Add in the cost of a keyboard and mouse and you're looking at a total cost of $80 to $100 for the Remix Mini Android PC.