For those of you sick of the interminable run of crappy Bollywood and nighmarishly ugly Kollywood movies, Tokyo Sonata will restore your faith in movies.
At first, we were debating if it was worth making the trip to New York City to watch Tokyo Sonata. But after watching this lovely movie, we can happily say that the trip to the Big Apple was most definitely worth our time and money. Paisa Vasool, bhaiya.
Amalgam of All Things Beautiful
Brilliant in all respects, Tokyo Sonata is from the acclaimed Japanese film director Kiyoshi Kurosawa, whose earlier movies include Kyua (Cure), Hebi no michi (Serpent's Path), Kumo no hitomi (Eyes of the Spider), Rofotu (Loft) and Sakebi (Retribution).
In case you are wondering, Kiyoshi is no relation to the legendary late Japanese film director Akira Kurosawa although they share the same last name.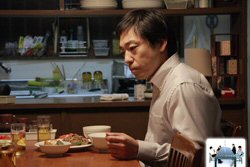 Teruyuki Kagawa in Tokyo Sonata
Assembling a dazzling cast of actors including Teruyuki Kagawa, Kyoko Koizumi, Kai Inowaki and Koji Yakusho, in Tokyo Sonata Kiyoshi Kurosawa tells a fine story of an ordinary, contemporary Tokyo family that starts off with the father losing his job when his position as director of administration is outsourced to China where you can get three employees for the salary of one Japanese employee. Not unlike the IT outsourcing from the U.S. to India, na.
Given the current depressed economic climate, the endless layoff stories and rising unemployment figures, we couldn't ask for a more timely subject than the layoff of a salaryman. Right?
At the same time tragic, comic, realistic, sarcastic and touching, Tokyo Sonata is also, in a sense, an indictment of the wave of globalization sweeping the developed world (in our view, globalization is no more than an euphemism for outsourcing well paying first world jobs to low-wage third world coolie nations like India and China). Continue reading »