For those of you sick of the interminable run of crappy Bollywood and nighmarishly ugly Kollywood movies, Tokyo Sonata will restore your faith in movies.
At first, we were debating if it was worth making the trip to New York City to watch Tokyo Sonata. But after watching this lovely movie, we can happily say that the trip to the Big Apple was most definitely worth our time and money. Paisa Vasool, bhaiya.
Amalgam of All Things Beautiful
Brilliant in all respects, Tokyo Sonata is from the acclaimed Japanese film director Kiyoshi Kurosawa, whose earlier movies include Kyua (Cure), Hebi no michi (Serpent's Path), Kumo no hitomi (Eyes of the Spider), Rofotu (Loft) and Sakebi (Retribution).
In case you are wondering, Kiyoshi is no relation to the legendary late Japanese film director Akira Kurosawa although they share the same last name.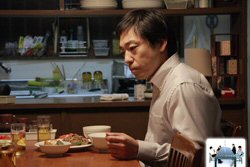 Teruyuki Kagawa in Tokyo Sonata
Assembling a dazzling cast of actors including Teruyuki Kagawa, Kyoko Koizumi, Kai Inowaki and Koji Yakusho, in Tokyo Sonata Kiyoshi Kurosawa tells a fine story of an ordinary, contemporary Tokyo family that starts off with the father losing his job when his position as director of administration is outsourced to China where you can get three employees for the salary of one Japanese employee. Not unlike the IT outsourcing from the U.S. to India, na.
Given the current depressed economic climate, the endless layoff stories and rising unemployment figures, we couldn't ask for a more timely subject than the layoff of a salaryman. Right?
At the same time tragic, comic, realistic, sarcastic and touching, Tokyo Sonata is also, in a sense, an indictment of the wave of globalization sweeping the developed world (in our view, globalization is no more than an euphemism for outsourcing well paying first world jobs to low-wage third world coolie nations like India and China).
After Ryuhei Sasaki (Teruyuki Kagawa) loses his job as director of administration at the Tanite Corporation, he is too ashamed to tell anyone at home including his wife Megumi (played with mucho elan by Kyoko Koizumi) and goes about pretending as if he's still employed.
But Sasaki is not the only laid-off worker resorting to such face-saving tactics. One day at the soup kitchen that Sasaki frequents for the free food, Sasaki meets his old schoolmate Kurosu (Kanji Tsuda) who takes pretense to a higher plane by programming his cell phone to ring at pre-scheduled intervals so that he can appear to bystanders to be busy.
Kurosu, who is worried that his wife looks at him with "eyes of mistrust," explains the cell-phone ploy to the amazed Sasaki:
That was just for show. I do it to calm my nerves…I set my cell phone to ring five times an hour.
The line of laid-off workers is long at the unemployment office and Sasaki stands little chance of getting a job that's similar to his previous position.
Meanwhile, at Sasaki's home things are slowly unravelling.
Sasaki's older son Takashi, with whom he has a strained relationship, joins the U.S. Army via a program that lets a limited number of foreigners enlist and is quickly disptched to the Middle East to fight America's wars there.
While Yu Koyanagi leaves no room for complaint as Takashi, it's Sasaki's younger son Kenji (Kai Inowaki), who stands out with a stellar performance  – it's a joy to see this young boy slyly use his lunch money for piano lessons despite knowing well that his father is opposed to it, cleverly taking on his teacher for a punishment that he does not merit or be defiantly locked up for trying to get on a bus as a stowaway.
For Sasaki, the situation slowly gets worse as there are few job opportunities out there. As Kuroso explains to an angry Sasaki after a failed and humiliating job interview:
The lifeboats are gone.They loaded them up with women, children and young people.
One day, Sasaki learns that Kurosu and his wife are dead in what we learn is a double-suicide.
Nice Twist
Director Kurosawa deftly introduces a nice twist into this dysfunctional family through the desperate thief (Koji Yakusho), who enters the Sasaki house one day, leading to the horrific encounter between Megumi and her now-a-janitor husband in the mall.
Tokyo Sonata's ordinary life story is so beautifully told thanks to the solidly crafted screenplay by Kurosawa, Max Mannix and Sachiko Tanaka, superb acting by all the characters and fine camera work by Akiko Ashizawa that it's almost as if we, the members of the audience, are stealthily peering into the window of Sasaki's small home in Tokyo, not sitting in front of a screen in downtown Manhattan.
Teruyuki Kagawa, who plays Sasaki, is a first class actor and displays his prowess through all the various phases of the movie.  Whether as the fired worker, angry father or embarrassed janitor, Kagawa is master of the acting game.
Equally brilliant is Kyoku Koizumi, who plays the wife and mother doing her best to hold the family together. When the thief tells her, you must be God, we almost believe it. Koizumi is that good.
Deserved Honors
The honors have not been slow in coming for this must-watch Japanese movie (don't worry, the movie has English sub-titles).
Tokyo Sonata won the Jury Prize at the Cannes Film Festival, the Grand Jury Prize at the Chicago International Film Festival and was the official selection for the New York Film Festival 2008 and the Toronto International Film Festival 2008.
Tokyo Sonata, which opened in the U.S. on Match 13, is now running at the IFC Center and Lincoln Plaza Cinemas in New York City.
SearchIndia.com strongly recommends Tokyo Sonata.