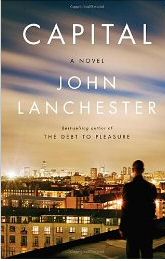 British writer John Lanchester puts forth a riveting indictment of present-day London in his new novel Capital.
By London, we mean a city where clueless people in the financial sector make obscene sums through reckless bets, where greed runs rampant at all level of society, drunkenness is the norm, conspicuous consumption a ritual and high immigration an unavoidable phenomenon.
A city whose fabric has been completely torn asunder, hopelessly coarsened amid the meretricious charms of High Street luxuries.
In short, a city that has gone to the dogs over the last few decades.
Lanchester sets his story in 2007-2008, when tremors start rocking the world of high finance, with Pepys Road in South London as his stage.
Colorful Characters
Once a lower middle-class neighborhood, home prices on Pepys Road have soared into the stratospheric realm.
Millionaires buy up homes on Pepys Road and pour more money into tearing up the buildings and doing them up. Continue reading »