By Naveen
(Note from SI on why we have two reviews for Ek Tha Tiger: Naveen's review presents a different perspective of the movie from NRI actor Sonny Chatrath's uplifting take on the film. The two writers come from different directions. For Naveen, a movie is more than just a movie – It's a reflection of the nation's psyche, scars and its history. As an actor, Sonny views a movie from an entertainer's 'don't over-analyze' perspective – A movie is just a movie where you go to have a good time in the company of friends and family. SI has no preferences on the two reviews.)
Yash Raj Films (YRF) and Salman Khan must think India is a nation of born losers.
Why else would YRF release this unpatriotic movie directed by Kabir Khan on the Indian Independence Day?
…and know what?
Indians are going to respond with a "Hell Yeah!" in unison by making this movie a big hit and reaffirm Sallu Baba's numero uno status in Bollywood.
The last Salman Khan movie I saw on the big screen was "Karan Arjun" and that was a couple of decades ago.
I maintained a clean record of avoiding his movies until today when I decided to check out if Salman Khan is a Tiger or its more common family member, Pussy.
To my surprise there were not more than 20 people for the 10:45 pm show.
Was it because it was the middle of the week?
Was it because people wanted to wake up early and hunt down Aamir Khan and Abhishek Bachchan who are shooting for Dhoom 3 in Downtown Chicago?
Or have they finally given up on Salman Khan?
It is safe to say it's not the last one.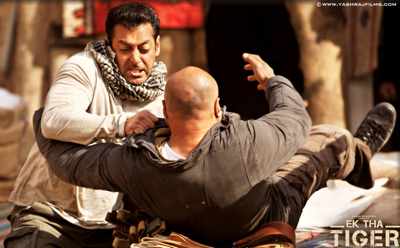 Story
Tiger (Salman Khan) is a Secret Agent working for RAW, India's intelligence agency.
He has been on deadly missions continuously for 12 years and still thirsts for more.
Tiger's boss Shenoy (Girish Karnad) sends him to Dublin on a mission to observe the actions of an Indian Scientist (Roshan Seth) suspected of selling secrets to Pakistan.
Gopi (Ranvir Shorey) is Tiger's secret aide.
During the mission he meets and falls in love with Zoya (Katrina Kaif), a student and caretaker of the scientist. However, it turns out that Zoya is an ISI Agent from Pakistan and she is stealing secrets from the scientist.
As Tiger decides to follow the heart instead of the head, what follows is a cat and mouse game between Tiger, Zoya, RAW and ISI with incredible twists and turns. This forms the rest of the movie.
The first half of the movie establishes Tiger's credentials as a heroic secret agent and Tiger-Zoya romance.
The second half is all action.
The plot of scientist selling secrets is abandoned midway. Continue reading »