By Naveen
(Note from SI on why we have two reviews for Ek Tha Tiger: Naveen's review presents a different perspective of the movie from NRI actor Sonny Chatrath's uplifting take on the film. The two writers come from different directions. For Naveen, a movie is more than just a movie – It's a reflection of the nation's psyche, scars and its history. As an actor, Sonny views a movie from an entertainer's 'don't over-analyze' perspective – A movie is just a movie where you go to have a good time in the company of friends and family. SI has no preferences on the two reviews.)
Yash Raj Films (YRF) and Salman Khan must think India is a nation of born losers.
Why else would YRF release this unpatriotic movie directed by Kabir Khan on the Indian Independence Day?
…and know what?
Indians are going to respond with a "Hell Yeah!" in unison by making this movie a big hit and reaffirm Sallu Baba's numero uno status in Bollywood.
The last Salman Khan movie I saw on the big screen was "Karan Arjun" and that was a couple of decades ago.
I maintained a clean record of avoiding his movies until today when I decided to check out if Salman Khan is a Tiger or its more common family member, Pussy.
To my surprise there were not more than 20 people for the 10:45 pm show.
Was it because it was the middle of the week?
Was it because people wanted to wake up early and hunt down Aamir Khan and Abhishek Bachchan who are shooting for Dhoom 3 in Downtown Chicago?
Or have they finally given up on Salman Khan?
It is safe to say it's not the last one.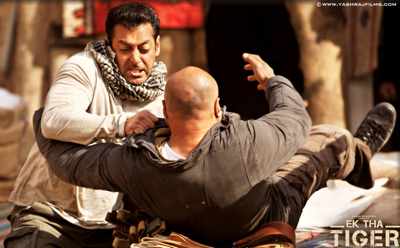 Story
Tiger (Salman Khan) is a Secret Agent working for RAW, India's intelligence agency.
He has been on deadly missions continuously for 12 years and still thirsts for more.
Tiger's boss Shenoy (Girish Karnad) sends him to Dublin on a mission to observe the actions of an Indian Scientist (Roshan Seth) suspected of selling secrets to Pakistan.
Gopi (Ranvir Shorey) is Tiger's secret aide.
During the mission he meets and falls in love with Zoya (Katrina Kaif), a student and caretaker of the scientist. However, it turns out that Zoya is an ISI Agent from Pakistan and she is stealing secrets from the scientist.
As Tiger decides to follow the heart instead of the head, what follows is a cat and mouse game between Tiger, Zoya, RAW and ISI with incredible twists and turns. This forms the rest of the movie.
The first half of the movie establishes Tiger's credentials as a heroic secret agent and Tiger-Zoya romance.
The second half is all action.
The plot of scientist selling secrets is abandoned midway.
While the plot itself is not bad, it seems Kabir Khan decided not to waste much time on 'trivial' things such as logic and reason and instead focus the attention of the audience on long chase and action sequences. He seems to have a particular fascination for Parkour style action/chase.
I will not write much about the illogical aspects as this is a mindless romantic–action thriller where this is absolutely no effort or pretense on making an intelligent movie.
The following examples should give you some idea:
Ø There is a typical Vijayakanthish scene where a tram is heading full speed towards traffic jam and Tiger stops the tram by jumping on to the roof of the train and using his coat and full power to pull down the rod that gets power from the overhead electric cables! Now, can our Captain do that? ('Captain' Vijaykanth is a Tamil film star noted for his bizarre style of acting and stunts)
Ø Time and again ISI and RAW agents are shown as incompetent baboons. They get so many chances to end the cat and mouse game but they just stand and stare like clueless idiots
Ø ISI seems light years ahead of RAW! While the ISI agent Zoya quietly steals all information from the scientist's computer, the RAW agents are busy finding ways to talk to the scientist
Ø Gopi suddenly starts referencing Zoya as Bhabhi although she is many many years younger to him as per the movie timeline. Since when did secret agents develop impulsive emotional bonding?!? If that is not enough, Zoya's ISI boss preaches to her the virtues of womanhood and her responsibility to safeguard her "izzat"
Ø The lack of seriousness and levity with which Girish Karnad's character Shenoy assigns missions to Tiger seems as if they are playing a game show on TV
Performances
While not much is expected of actors in action thrillers the least that is expected is to keep things credible.
Salman Khan is undoubtedly the Ajith Kumar of Bollywood. Someone with an extreme economy of expressions and remotely recognizable acting skills (Ajith Kumar is a Tamil film star noted for his pitiful acting skills).
After more than 25 years in the industry, Salman Khan still can't dance or speak more than two lines at a time. In the scene where he dances with Katrina, he has the perennial look of a man trying to squeeze out the last few drops of piss.
What Salman brings as a compensation for lack of skills is his good looks and excellent physique.
When your hero has such limited talent how different would the leading lady be?
Everyone knows that Katrina Kaif is no Vidya Balan. So we are supposed to look past her inadequacies and ogle at her long legs and fair skin.
What are the talented Girish Karnad, Ranvir Shorey and Roshan Seth doing here?
They must be having a very hungry family to take up these half-baked second and third fiddle roles. They were all ok in their simple roles.
I don't know the names of the actors who played the Pakistani ISI agents but it seems they were all half-asleep when shooting.
Sajid-Wajid and Sohail Sen's music is passable with a couple of decent songs (Mashallah and Banjaara) but nothing memorable.
Recommendation
What Ek Tha Tiger lacks in depth, storytelling, logic and performances, it makes up to some extent in style, photography, picturization and great locations.
The production values are good, which is a new normal for movies from the cash-rich Bollywood producers.
Another thing that works in Ek Tha Tiger's favor is that it is a clean movie.
No foul language, crude jokes, gruesomeness or vulgarity – a rarity in an industry hell bent on making the likes of Sunny Leone a mainstream actress.
Ek Tha Tiger is meant primarily for Salman Khan fans.
Others, if you are willing to bang your head against a wall and lose some sense then you may also like it.
However, the fact that the movie takes a careful neutral stance between ISI and RAW (and between Pakistan – India) and it has been released for Eid and Aug 15th tells me that the greedy producers are hungry for money from the Pakistan box office and not satisfied with Indian collections.
It also tells us that for these Bollywood bozos incidents like the horrific 2008 Mumbai Attacks are as trifling as gum sticking to shoe.
For that reason and that reason alone I will not recommend Ek Tha Tiger.