Greater crimes are being committed on New Yorkers in the name of Biryani than by all the sleeper-cell jihadists supposedly holed up in Queens and Jersey City.
No sooner did I hear that the Paradise Biryani Pointe chain had opened an outpost in the same location as the closed Mehfil on 37th Avenue in Jackson Heights, than I dropped everything and rushed to NYC.
Hey, you cannot be Indian and disavow your loyalty to Biryani, the famed South Asian rice dish.
For those not familiar with NYC, the area around 74th St and 37th Ave in Jackson Heights is a stinking, pan-stained mess populated mostly by my South Asian brethren.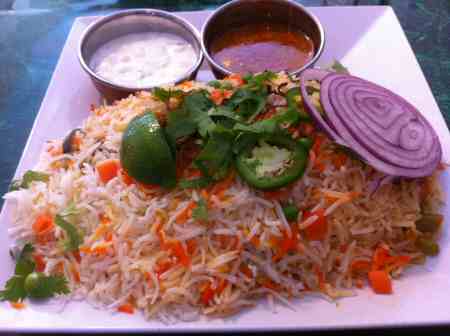 Nauseating Vegetable Biryani
Unending Nightmare
Since my mission was to feast on Biryani, I ordered both Chicken Biryani ($9.99) and Vegetable Biryani ($8.99) followed by Masala Tea ($1.50) and Qubani Ka Meetha ($3.99).
It took about 10-12 minutes for my Vegetable Biryani to arrive followed in short order by Chicken Biryani.
Both Vegetable and Chicken Biryani came with Peanut flavored gravy and Onion Raita on the side.
Awful – My one-word review of the Paradise Biryani Pointe Jackson Heights'  Vegetable and Chicken Biryanis for all ye impatient souls.
For what was served in the name of Vegetable Dum Biryani and Chicken Dum Biryani was fit only for the dumpster, not for my stomach.
Vegetable Dum Biryani – Pitiful
My Vegetable Biryani was hot (temperature wise), made with Basmati rice and included diced carrots, green peas, beans, caramelized onions, chopped cilantro, one piece of cut lime, a round slice of onion, two small round slices of peppers and two small slices of zucchini.
But my Vegetable Biryani was a catastrophe of unparallelled proportions. Continue reading »